In this edition of Modern Mining, the editor looks at how mining companies can take advantage of the COVID-19 adversity. That the pandemic presents significant challenges and is likely to have a substantially adverse impact on the global economy is no overstatement. Commodity prices could fall closer to trough levels in the near term and make significant cuts to mining companies' earnings forecasts.
However, a period of volatility like this one may offer unique opportunities that mining businesses can leverage if prepared. In such difficult times, the natural instinct is always to cut and reduce, but now might also be the time for companies to invest in key resources—specifically, assets.
Mining companies going into this COVID-19 influenced downturn with balance sheet strength have considerable advantage. Making strategic acquisitions at depressed multiples can create long-term accretive value. Many firms, however, leave it too late and find themselves acquiring when the market has already turned. It's important to take the long view.
On the Cover:
The big read in this edition explains how global expansion is at the forefront of AECI Mining's strategic efforts to improve its position in the global mining industry. This is underpinned by the company's continued R&D drive to design and manufacture products and solutions, which will solve the countless challenges mining is faced with on an on-going basis.
Expanding diamond exploration portfolio
Armed with what MD James Campbell terms as the 'very best' in modern diamond prospecting techniques, junior diamond explorer Botswana Diamonds continues to expand its portfolio in southern Africa, with a specific focus on 'highly prospective' Botswana, South Africa and Zimbabwe.
Compelling economics for Mahenge project
A Definite Feasibility Study has confirmed the Mahenge Liandu graphite project in south-east Tanzania – owned by Armadale Capital, the AIM listed investment group focused on natural resource projects in Africa – to be a large, long-life, low-cost graphite deposit with US$358-millon NPV and IRR of 91%.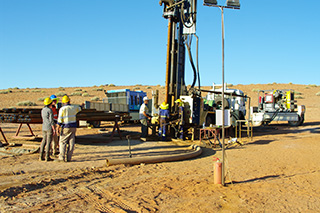 Record RC drilling depths
Mincon South Africa recently supported Torque Africa Exploration at a mineral greenfield exploration drill site in the Northern Cape province of South Africa where a new Mincon reverse-circulation system was used, successfully drilling to a record depth of 1 019 m in just nine days.
Dry-type transformers: perfect for modular plants
Dry-type transformers can be installed in modular substations at mines without fire or safety risk, at no additional expense for oil containment structures, without being damaged by vibration or transport and with minimal maintenance requirements. They are also installed closer to the electrical load and require less cabling.
Reaping the benefits of modular solutions
Building a new processing plant can be an expensive endeavour. Therefore, mining operations are turning to modular plant systems that offer several advantages, essentially the low capital costs that are reflected in a higher return on investment, and improved cost to recovery ratios.