Modern Mining Digital August 2020
In the August edition of Modern Mining, we look at the impact of the proposed tax amendments on contract miners. On July 31, 2020, the National Treasury released the Draft Taxation Laws Amendment Bill for comment. The Bill includes proposed amendments to both section 15 and section 36 of the Income Tax Act (ITA), effectively noting that capital expenditure allowances are only available to taxpayers that hold mineral rights. The proposed amendment was alluded to earlier this year as part of Finance Minister Tito Mboweni's budget speech, during which he noted that it was being considered.
The proposed amendment, if passed in its current form, will mean that contract miners will not be entitled to claim any accelerated capital expenditure allowances, and will have to claim allowances for capital expenditure in terms of other provisions in the ITA. Contract miners will, therefore, no longer be entitled to claim 100% of the capital expenditure incurred in a particular year, and will instead need to determine whether other allowances are applicable – for example, the 40/20/20/20 allowance in 12C, available to taxpayers conducting manufacturing operations.
On the Cover:
For the past 60 years of its South African presence, Fluor has enjoyed massive success in the regional Energy and Chemicals markets, as well as the Mining and Metals markets. Commenting on the company's success over the years, Trevor Anderson, sales director at Fluor, tells Modern Mining that clients choose Fluor for its comprehensive Engineering, Procurement and Construction service capabilities that provide innovative lifecycle solutions, including design, engineering, procurement, construction, start-up, operations and maintenance.
KX36 gives Botswana Diamonds its maiden resource
The acquisition of the KX36 diamond discovery, together with two prospecting licences and a diamond processing plant from Petra Diamonds, affords Botswana Diamonds its first classified diamond resource. The KX36 kimberlite, which MD James Campbell believes to be the most significant diamond discovery in Botswana since Orapa and Jwaneng, not only gives Botswana Diamonds a quick route to possible production, but also adds scale to the junior exploration company's Sunland and Maibwe JV properties in the Kalahari Desert.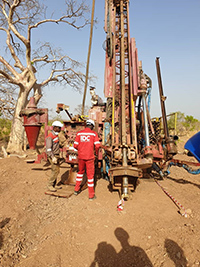 Discovery of new gold zones boosts resources at Sanankoro
AIM-quoted Cora Gold Limited has discovered two new gold zones on its two permits close to its flagship Sanankoro Gold Project in Mali. The two discoveries, CEO Bert Monro tells Modern Mining, are part of the West African focused gold company's extensive drilling programme this year to test for new zones of potentially near surface economic gold mineralisation in close proximity to the Sanankoro deposits.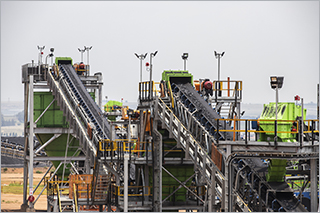 Record plant throughput for Khanye Colliery
Canyon Coal's Khanye Colliery has achieved a major production milestone. The operation processed 204 480 tonnes in June, the highest ever processing plant throughput since the commencement of operations in January 2018. Group Project Manager at Menar Clifford Hallatt tells Modern Mining that this is indicative of the throughput ramp-up, which has been a gradual process to date.
Water management at mines – every drop counts
Water plays an essential role in most mining and extractive processes, and responsible water management is a critical business case for the mining sector at large. Managing mine impacted water often requires water treatment, but there is no one-size-fits-all approach when it comes to the design of water treatment plants, thus mines need to select a site-appropriate water treatment technology that meets their project specific needs. To this end, Multotec offers integrated fit-for-purpose water treatment systems that consider overall requirements of the site.
Setting the trend for women in mining
The mining industry faces a gender diversity challenge, largely stemming from the sociocultural barriers centred on common prejudice, perceptions and implicit stereotyped notions on gender roles in the sector. Despite the gendered organisational nature of mine work, which affects effective participation of women in mine jobs, three women at AECI Mining – Meagan van den Berg, Sarah Leshabane, Linda Kretschmer – are setting the trend with their vigour to challenge the status quo and succeed in a male-dominated environment.
Preventing accumulation in mining hoppers and chutes
Efficient material flow is a critical element of wet mining processes such as stoping, hydraulic mining and wet dredging. Accumulation or blockages in storage systems and build-up in process vessels can impede material movement, causing bottlenecks that interfere with equipment performance, reduce process efficiency and put a choke hold on an operation's profitability. Poor material flow also raises maintenance expenses, diverting manpower from core activities and in some cases introducing safety risks for personnel.
Click to download and read in PDF format.