Editor's take: In this edition of Modern Mining, the editor discusses how gold miners have significantly shifted their exploration focus in recent years, favouring increased mine-site exploration at the expense of grassroots exploration.

Gold companies at both the top tier and junior level have become more cautious with their dollars, shifting their focus to lower-risk opportunities such as brownfield projects – those with previous capital invested in development and an established resource base.

The projects that investors find most attractive are those with clearly defined mineral resources and strong potential for becoming economically viable mines – the hallmarks of a quality brownfield project. In addition to providing cost savings, developing a brownfield property with existing resources or proven production potential is a much quicker path to returns.
On the Cover:
Vermeer Equipment Suppliers has firmly stepped into the mobile crushing and screening arena following its appointment as the exclusive distributor of the full Anaconda Equipment range of crushing, screening, feeding, washing and conveying equipment in southern Africa. The crushing and screening range broadens Vermeer Equipment Suppliers' offering and complements its existing Vermeer line of continuous surface miners.
Obuasi Redevelopment Project – building a future for an iconic mine
Having commenced in January 2019, construction at the Obuasi Redevelopment Project achieved 97% completion by the end of March this year. The project, AngloGold Ashanti's Graham Ehm tells Modern Mining, remains on track with Phase 2 ramping up to mine 4 000 tonnes of gold ore a day by the third quarter of this year.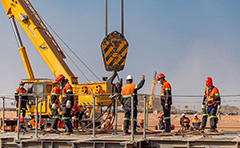 Production to commence at Kamoa Copper ahead of schedule
Accelerated construction has seen Kamoa Copper's first phase 3,8 Mtpa concentrator plant reaching 98% completion as of the end of April. Advanced-stage commissioning is proceeding, with majority of the certificates of construction completion signed off, a month ahead of schedule.
New trends in comminution technology
New trends in the field of comminution include reduced ore grades, low-energy dry comminution, high-pressure grinding rolls, stirred mills and hybrid power supplies. We take a closer look at these and at how they help to meet the industry's need for improved efficiencies.
The MMD Group: from OEM to turnkey solutions provider
The MMD Group of Companies, originally an OEM and service provider to big-tier mines, major mining companies and project houses, has recently expanded its capabilities to provide turnkey solutions ranging from feasibility studies to commissioning.
Zest WEG launches IE4 electric motors in SA
As electric motors consume more than half the electricity generated around the world, it stands to reason that the energy-efficiency of these electrical loads affects not just the generation and distribution of electrical power, but also every aspect of industry. Modern Mining approached Zest WEG to learn more about the recently-launched IE4 motor and its improved energy-efficiency.
Championing digital solutions for 40 years and counting
While mining companies have been considering for several years how digital transformation might alter the future of work, COVID-19 has accelerated this imperative. Gideon Slabbert, Maptek's GM for Africa, discusses how mines in Africa are leveraging Maptek's 40 years of championing digital solutions to meet the changing requirements of the industry in every mining stage, from exploration to operation.
Electric motors: efficiency in focus
While the electric motor is famous as the 'workhorse of industry', it is notorious for its energy appetite. Ironically, it is also applied in mining and industry's most energy-intensive applications. In this feature, we look at the various motor, drive and gearbox ranges available from three suppliers, as well as at their efficiencies and advantages.