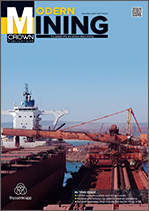 Editor's take: While the COVID-19 pandemic has had a range of impacts on mining companies, the one thing the past year has taught industry is the value of building resilience to navigate uncertain futures. In what PwC terms a year of doom and gloom on so many fronts in its SA Mine 2021 report, the mining sector however delivered a sterling performance with value delivered to all stakeholders.
As supply and demand jostled to find their way back to pre-pandemic levels, demand and prices were the outright winners. With record rand prices for gold, the platinum group metals basket, iron ore and more recently, coal, it was no surprise that the industry's financial performance exceeded expectations on most fronts.
Apart from the industry's proven resilience amid volatility, for me there were several other talking points that shaped the mining industry in 2021. First and foremost was the renewed focus on environmental, social and governance (ESG).
There was a time when the industry's stance on ESG issues was a public relations tactic. However, in today's rapidly changing business climate, attention to ESG issues is becoming critical to long-term competitive success. There is a common understanding that ESG represents one of the mining industry's most significant opportunities for long-term value creation, building trust and sustainable growth.
Miners are making significant strides to engage with their stakeholders and start to 'bake' ESG into the core of their strategies. To meet their ESG commitments, mining companies are getting serious about decarbonisation, while they are also working hard to overcome the trust deficit.
Another key talking point is how the COVID-19 pandemic has further accelerated the digitalisation of work processes in mining. The mining industry is increasingly making use of innovative and cutting-edge technologies to run more efficient operations, to manage risk, to improve health and safety, reduce the cost of maintenance and extraction, as well as bringing about a skills uplift.
The COVID-19 pandemic has further accelerated the digitisation of the work process, as well as the adoption of automation and other innovative tools in the mining industry.
On the Cover
Amid an increasing trend to 'sweat' existing assets, mines are leveraging thyssenkrupp Industrial Solutions South Africa's proven expertise in turnkey refurbishment/revamp projects, allowing them to extend the lifetime of their existing bulk materials handling assets at a reasonable cost, with minimal downtime.
COP26 resolutions bode well for rare earths
The resolution that follows the discussions of COP26 will be a crucial factor in the dramatic increase of sustainable forms of energy production. With its Palaborwa Rare Earths Project in South Africa, Rainbow Rare Earths is well positioned to meet the anticipated demand and supply gap for rare earth elements used to make compact high-strength permanent magnets used in the motors of hybrid and electric vehicles, as well as wind turbines powering the 'greener' electrification era for the international community.
Portable sizer solution for small to medium operations
In line with government's push to empower junior miners and in a move to provide these miners with the premium equipment used on large mines, MMD Mineral Sizing Africa offers a range of mobile sizing solutions that can be deployed to remote locations by standard road trucks. This makes them ideal for small to medium‑scale operators in the mining, aggregate and recycling sectors.
The New Astec: from decentralised business model to one consolidated company
Until recently, Astec operated a number of businesses under a decentralised business model. Over the past several months, the company has introduced a centralised approach, taking 19 different companies serving a variety of markets, commodities and applications, and bringing them together under the Astec name.
Customised conveyor solutions to suit individual applications
With full conveyor design and project execution capabilities, NEPEAN Conveyors, a privately-owned Australian company specialising in the design, in-house manufacture, installation and servicing of overland, underground and surface belt conveyor systems and bulk materials handling equipment and projects, can provide customised conveyor solutions to suit individual client requirements.
Varistem stemming plugs winning the day for mines in SA
Having initially experienced a slow uptake in the South African mining sector, Varistem® stemming plugs have seen an amplified adoption rate since ERG Industrial secured distribution rights in mid-2019. With mines fast realising the massive benefits offered by this technology, Eugene Preis, MD of ERG Industrial, tells Modern Mining that the rate of adoption has increased tenfold in the past two years, despite the documented COVID-19 challenges.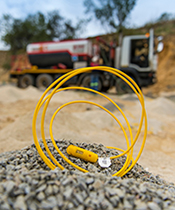 Blast innovator keeps its eyes on the mining efficiency prize
As the quality of blasting improves with evolving digital and emulsion technology, Omnia Group company, BME, notes that mines become more efficient, competitive and sustainable.
Differential GPS brings much needed autonomy to blasting
AECI Mining Explosives' new, high-accuracy (sub-1 m) Differential Global Positioning System (DGPS) brings autonomy to the blast hole tagging process, thus maximising efficiency by eliminating potential human error on the bench and ensuring integrity of drill and blast operations.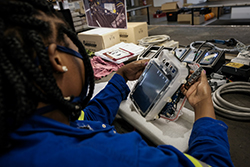 Collaboration to drive modernisation of the mining sector
South Africa's mining industry has made substantial progress in its journey towards digital transformation in the last decade, but partnerships and collaboration will be key to shift the mining sector into the Fourth Industrial Revolution. The role of collaboration in driving mining modernisation was explored by industry delegates at Huawei's Mining Summit in Johannesburg on 28 October 2021.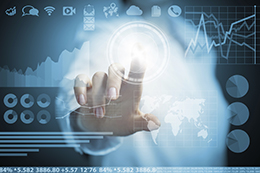 At the forefront of PDS and CPS technology evolution
Mine safety has been greatly enhanced by proximity detection systems, thanks largely to the technology's evolution in South Africa – where Booyco Electronics has remained at the centre of key technological advances. Working with local and global bodies, the company has rapidly developed solutions that now promise even more flexibility and stability.