Modern Mining February 2022
Editor's take: The Russia-Ukraine war sees yet another power struggle playing out, the energy power struggle which, if the pundits are to be believed, will see South Africans parting with as much as R40 per litre for fuel in the not-too-distant future. But the good news is that energy metal producers are raking in the big bucks.
On the cover
Brelko celebrates 35 years in business
From being the new kid on the block trying to muscle in on an already well-established segment of the mining business 35 years ago, Brelko is today firmly established as a premium quality supplier of conveyor belt cleaning equipment locally and in the SADC region. Brelko's innovativeness and solutions-driven approach has seen the manufacturer rise to become a supplier of choice to key mining projects which, says Brelko's MD Kenny Padayachee, is an achievement well worth celebrating.
Prospect Resources eyes new opportunities
Following the sale of Prospect Resources' flagship Arcadia Lithium project, located on the outskirts of Harare in Zimbabwe, to Chinese firm Zhejiang Huayou Cobalt, the company is actively investigating new energy metals opportunities.
Rainbow Rare Earths works to fill supply gap
From a relatively flat rate in 2020, rare earths elements have seen a meteoric escalation in commodity price, a reflection of dawning market realisation that their demand for use in LEDs, permanent magnets, electric motors, sensors, and many other components used in smartphones, flat screens, and cars, is quickly outstripping supply.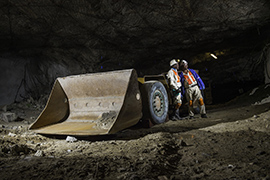 Junior and emerging miners tackle policy issues
South Africa's junior miners have emerged strong from the Covid-19 pandemic, tackling policy issues head-on and addressing challenges related to the debilitating red-tape that has, for years, stymied growth in the local mining sector. To gain insight into just how junior and emerging miners have fared over the recent past, Modern Mining's Nelendhre Moodley caught up with Mineral Council South Africa's head of the Junior and Emerging Miners Desk, Grant Mitchell.
With the features for this edition being Diamonds and Open-cast mining, we speak to diamond miner, De Beers and Pilot Crushtec, a supplier of quarrying and mining equipment.
De Beers is future ready with Diamond FutureSmart
Technological advancements continue to underpin the clean, green sustainable drive as businesses push the boundaries in search of innovative ways to reduce their impact on the environment, lower their carbon footprint, improve productivity and drive the agenda beyond zero harm. Diamond miner De Beers Group is walking the talk, using Diamond FutureSmart Mining, an innovation-led approach to carve out a sustainable future for mining, writes Nelendhre Moodley.
Pilot Crushtec leans on mining as construction sector slumps
On the back of soaring commodity prices, miners and mining contractors are scrambling to unlock increased production output and are turning to larger fleets to do so, says equipment supplier, Pilot Crushtec.