Global wet processing industry leader CDE will once again participate in CONEXPO-CON/AGG (on 7-11 March 2017 in Las Vegas) where the company will unveil its latest innovation, the CDE M5500 wash plant that can produce up to 550 tons per hour of washed materials on a single chassis. A selection of Infinity screens, the company's new development in screening technology, will also be launched on the North American market along with other technological surprises.
Kevin Vallelly, Head of Product Development at CDE, said: "In 2017, CDE is upping the stakes by unveiling a powerful high-tech sand washing plant dedicated to the needs of the North American materials washing market.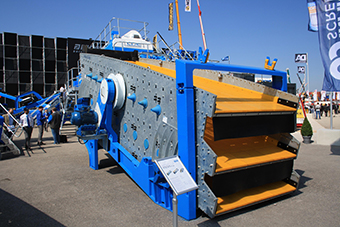 CDE's Infinity screens are a new development in screening technology.
"CONEXPO 2017 is the ideal launching pad for an innovative washing solution that will answer materials washing operators' needs for more efficient, user-friendly, economical and powerful equipment.
"This latest addition to the M-Series combines feeding, screening, washing and stockpiling onto one chassis, and packs an extra punch with unique features. These include a higher capacity of 550 tons per hour, a five-product capability and triple pass cyclone sand washing."
Adapted to applications in both dry and wet screening situations across a wide range of materials, the new CDE Infinity technology will also be of particular interest to operators looking for sturdier and more economical vibrating screens. Neil Mullan, Design Engineer at CDE, explains: "CONEXPO 2017 offers an ideal platform to launch our new Infinity screen range. We sell over 200 screens every year to the global market, either as part of the modular equipment that we have become well known for or as stand-alone.
"The new weld-free Infinity screens can generate the same acceleration as conventional screens with less weight, resulting in a reduction in power consumption and in operational costs, which presents significant benefits to our clients' operations."
According to CDE, its materials washing equipment allows for more accurate material classification than traditional sand washing methods, higher quality washed sand, reduced costs of pond excavation, and reduced risks on site. The final product exits the plant ready for use, having been dewatered to 15 % moisture.