On the Cover: As quarries seek some insulation against the cold whims of the construction market, improving productivity at low cost of operation is imperative. By combining Volvo CE's quality with its own local quarrying expertise, Babcock is able to offer quarries greater reliability to maximise throughput, backed up by a full suite of services that speak directly to the quarrying sector's needs.
The current aggregates business climate is characterised by price volatility, high labour costs, shrinking margins and increasing operational costs. This is exacerbated by a steady decline in the growth of aggregates demand due to the lack of meaningful construction projects. For quarries to survive and mine profitably, they need to capitalise on the opportunity to improve their productivity and focus on one factor they can control: operational efficiency.
Increasing productivity is one of the key drivers to counter diminishing profit margins as it effectively reduces operating costs. However, the emphasis should not only be on increasing output with the same input, but increasing the output while decreasing the input, and ultimately adding optimum value to current resources. Research shows that an increase in production will ultimately decrease the operation's unit cost, especially fixed costs.
With positive signs of recovery showing in the construction sector in 2020, David Vaughan, MD of Babcock's equipment business, tells Modern Quarrying that, armed with its Volvo range of machinery built for optimal loading and hauling, and the comprehensive range of services, all the way from financing to parts support and service agreements, Babcock is well-placed to be a partner of choice for the quarrying industry.
Addressing quality flaws in SA's cement market
To prove deliberate flouting of standards by some third-party cement blenders in the South African cement market, PPC appointed an accredited independent laboratory in September 2017. The company reveals that the exercise has unearthed serious breach of standards, which poses a major threat to consumers and the integrity of the country's cement industry at large.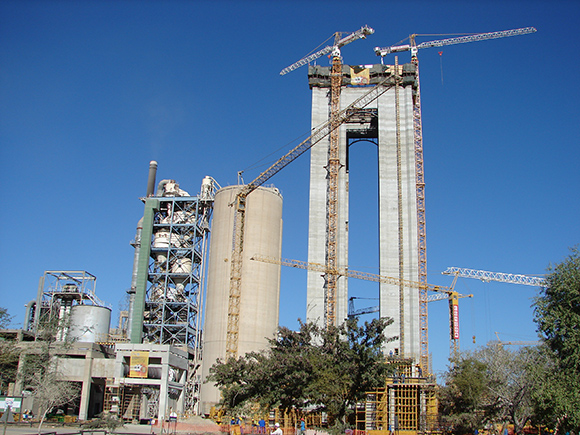 In building or civil construction, cement is the glue that binds the structure together. Yet, Njombo Lekula, MD of PPC RSA Cement, South Africa's leading cement manufacturer, laments the influx of sub-standard products in the South African market, which are threatening the built environment and placing lives of people at risk.
Lekula says usage of sub-standard cement has various implications that may negatively affect the sustainability of buildings and structures, thus leading to increased repair or maintenance costs, and in worst case scenarios, resulting in injuries and fatalities due to structural failures or collapse.
Speaking to Modern Quarrying, Lekula notes that there has been an influx of third-party cement blenders in the South African cement market in the past two years. He estimates that third-party cement blenders, also known as non-integrated cement producers, now account for more than 1,8-million tonnes of cement sales per year, in a market that is selling about 13,5-million tonnes of the country's available capacity of 18-20 million tonnes per year.
During a normal market surveillance exercise whereby it tests competitor products for benchmarking purposes, PPC found that there was huge quality gap in some of the products in the market, which warranted further investigation. In an effort to protect the greater South African cement industry and the consumer at large, PPC appointed Beton-Lab, a South African National Accreditation System (SANAS) accredited independent laboratory in September 2017 to prove intentional thwarting of standards by third-party blenders.
"When we realised the extent of non-conformance to standards, we decided to conduct quality checks on a continuous basis. Despite the fact that we have a very capable laboratory, which I consider to be one of the best in the African cement industry, we decided to engage the services of an independent laboratory to ensure transparency and non-bias in the results. We have been monitoring this for about 18 months and the results are shocking," explains Lekula.
Adjusting to a new locality
Considered in the 1960s to be far flung from any meaningful construction activity, even to a point of possible closure in the 1990s due to low sales volumes, today Jukskei quarry finds itself in the middle of a booming urban area and has become one of AfriSam's busiest aggregate quarries. While rapid urbanisation in the vicinity has changed the fortunes of the quarry, AfriSam has had to deal with new environmental aspects, which have been addressed through an array of initiatives.
Mining at Jukskei quarry commenced in the late 50s, with the operation initially called Hippo Quarries. When first established, the quarry was well outside any built up area, but today, due to rapid urbanisation in its vicinity, the operation finds itself at the heart of a thriving urban area anchored by the one of the largest mixed-use property development South Africa has ever seen, Waterfall City – and is worth R16-billion.
In recent years, the area has been a strategic hub for commercial building, along with complementary civil construction activity. To give an idea, just opposite the quarry, the Waterfall mixed development has already attracted some major projects, and one that quickly comes to mind is the R4,1-billion Mall of Africa, the continent's largest shopping centre to be built in one go.
Waterfall development encompasses 2 200 hectares of land. It's larger than Sandton and stretches from Woodmead to Kyalami and Vorna Valley, abutted in part by the suburbs of Buccleuch and Sunninghill. The residential area is partially developed and will, on completion, have up to 18 500 units. It is predicted that the development will have an economic impact of about R106-billion on its completion in 2023.
While all the urbanisation has boosted the quarry's business over the years to become one of the busiest operations among AfriSam's 17 aggregate quarries, it has also meant that the operation now finds itself bordered by a built up area, with a business park to the north and a Baldwin property to the south. With new neighbours, some of them only 250 m away, management has carefully managed the transition and the environmental aspects that come with the new setting.