On the Cover: Astec Industries Inc.'s recent group restructuring, which saw the establishment of several regional businesses, of which Astec Industries Africa and Middle East is one, delivers further benefits for aggregates customers operating in the region through an expanded product range and enhanced support structures.
Astec Industries Inc. created a new International Business division in 2020. The move forms part of Astec Industries' international expansion strategy, with regional sales organisations established to improve customer interaction and support of the complete range of Astec products.
Astec Industries Africa and Middle East (AME), as one of the newly-created regional sales organisations, is responsible for business relationships in Africa, the Middle East and Central Asia. The AME offices are based in Elandsfontein, Johannesburg, with regional sales managers positioned strategically within the region to support the expanded dealer network and customers.
"We look forward to contributing to the continued growth of our customers' businesses through this enhanced structure, optimised product range and support structures throughout the Astec Industries organisations," explains Vinesh Surajlall, Director – Material Solutions, Astec Industries AME.
A key benefit for the aggregates sector is the expanded product range from a single supplier. Under the Material Solutions portfolio, Astec Industries AME offers crushing units (portable, track mounted, jaw crushers, cone crushers and vertical shaft impactors); screening units (portable and track-mounted, high frequency screens, horizontal screens, incline screens, scalper screens and combos); materials handling equipment (stackers, conveyors, and feed systems); washing and classifying plants; rock breaking equipment (hydraulic breakers, demolition, construction and mining attachments); and mobile equipment (utility vehicles, scalers and mobile rock breakers).
At the drilling edge
Drilling as the first unit operation in quarrying has a significant bearing on the cost-effective execution of downstream operations. The development, advancement and utilisation of innovative technologies in the drilling sector are therefore important for the quarrying industry to operate cost-effectively, thus the drilling industry is at the forefront of technological advancement in all forms.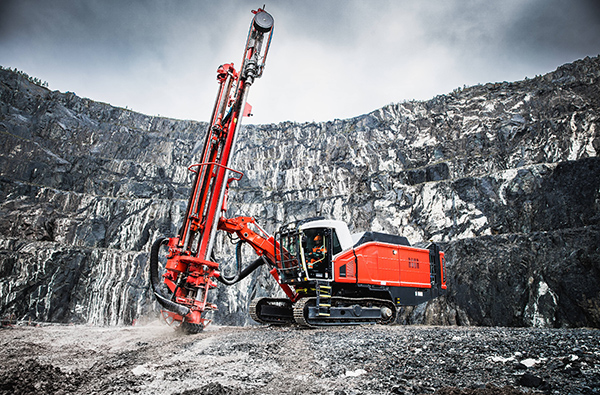 Unit operations such as drilling, blasting, excavation, loading, hauling, crushing and screening are interrelated variables in the total cost equation of a quarry operation. However, drilling is the first unit operation that has a significant impact on the rest of the functions, thus it should be executed accurately.
As the initial phase of the quarrying process, says Vanessa Hardy, business line manager surface drills, Sandvik Mining and Rock Solutions, the drilling function sets the scene for the efficient roll-out of blasting, loading, crushing and screening phases.
"If the drilling is not done accurately at the start of this process, there is an increased risk to production, including safety issues, delays and higher costs. Failing to deliver on any of these issues can even lead to reputational risk. Getting the basics right is vital, from the correct selection of drill rigs to the bench preparation and levelling of equipment," explains Hardy.
A key enabler to effective drilling in recent years has been the continuous rollout of new technologies that have and are changing the face of this function in the quarrying and mining sectors. In this changing world where much of the traditional and accepted ways of working are being questioned, Kevin Govender, area sales manager – Surface Division at Epiroc South Africa, believes that automation technology will solve many of the challenges facing quarrying operations.
Unpacking the digital revolution in blasting
The COVID-19 situation has created major challenges for the mining sector worldwide and has highlighted that digital production is more important than ever when it comes to gaining a competitive edge. Consequently, BME reports increased enquiries of its digital blasting tools as mines seek to take advantage of digital technologies to react to current and future challenges with the required degree of flexibility. By Munesu Shoko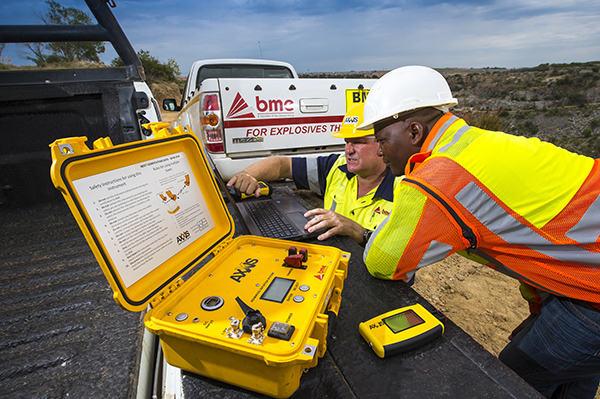 The days of trying to convince mining executives of the imperative of a comprehensive digitalisation roadmap may well and truly be over. There doesn't appear to be a mine owner or manager in the world who doesn't appreciate the immense value, efficiencies and competitiveness that can be unlocked by fully harnessing the power of digital tools.
One area in the mining cycle where the power of digital is proving its worth is in blasting. Tinus Brits, global product manager – AXXIS at BME, says mines in the SADC region, and Africa at large, are looking for innovation and technology to promote sustainability.
"We have seen a big move towards electronic detonators in the African mining sector," he says. "A big drive is the testability of the product. With electronic detonators you know immediately what is going on – you can detect possible misfiring in the range and can easily detect which detonators are not responding. We have therefore seen most mines moving over to electronic detonators."
Brits also notes a big drive for data at mines. The data, he reasons, has always been available, but now more than ever, mines are realising the value that can be driven from the large amounts of data at their disposal. "Previously," he says, "data was never really shared between the customer and the explosives supplier. There is now a big drive to make the data available to all parties for informed decisions when it comes to blasting patterns and blocks."
D. Scott Scovira, global manager Blasting Science at BME, agrees, saying that the behaviour and discipline of mining houses has changed in recent years. Previously, in the late 90s, he says, mines were very much paper driven, and operations personnel largely ran mines at the expense of engineering teams.
"Mines traditionally tend to be heavily driven by operations, and every time you introduce more work processes, they are often met with resistance. Fortunately, mine management has seen the value of big data and now it's being driven from top-down, rather than from bottom-up," says Scovira.