On the cover:
In a ground-breaking development, Metso and its southern African distributor, Pilot Crushtec International, have rolled out an industry first, standard 5-year/ 10 000-hour warranty on all Metso crushers and screens. The move ushers in a new era in the crushing and screening industry where a 1-year/2 000-hour warranty is generally the norm on these mission critical assets.
A warranty is a valuable component to any capital equipment purchase, especially mission critical and big-ticket purchases such as crushers and screens. It assures equipment users that their funds are being well spent and the equipment they are buying will be covered for a period of time, protecting them against defects in materials and workmanship during the warranty period. As one industry expert put it, "a warranty is like health insurance, we hope we never need it but when we do we are grateful we have it".
While different crushing and screening products from different manufacturers may have different price tags, the length of warranties has largely been the same for years, pegged at 1-year/2 000 hours. The longer and more comprehensive the warranty is, the lower the overall potential cost of ownership for owners. With that in mind, Pilot Crushtec International and Metso are setting new standards with an industry first, standard 5-year/10 000-hour warranty for southern African customers.
Francois Marais, Director – Sales & Marketing at Pilot Crushtec International, says the ground-breaking initiative is a true indicator of Metso's confidence in its product. It is also a sign of service commitment from Pilot Crushtec International as the exclusive distributor of Metso's aggregates products and services, including static, tracked and wheeled crushers, scalpers and screens in southern Africa.
"We have been offering this warranty for the past six months on a pilot basis just to gauge the level of interest and feedback from customers. Effective 1 January this year, we were able to broker a deal with our principal, Metso, to standardise the 5-year/10 000-hour warranty across the whole Metso product range we supply," says Marais.
"The initiative is in the best interests of the consumer. A longer product warranty gives customers some extra coverage for their big-ticket purchases, along with a little more peace of mind. From an original equipment manufacturer (OEM) perspective, it says a lot about the confidence in the brand. From a supplier point of view, it also means that we want to be there for our customers for the long haul, and be involved in their businesses with a vested interest," explains Jorge Abelho, Director – Technical and Customer Support at Pilot Crushtec International.
At the blasting edge
Blasting practices at mines and quarries have undergone many changes in the recent past and continue to be refined and reconfigured to meet the demands of today's mining and quarrying needs as operations seek to gain further improvements in safety, mining efficiencies and productivity, while reducing costs.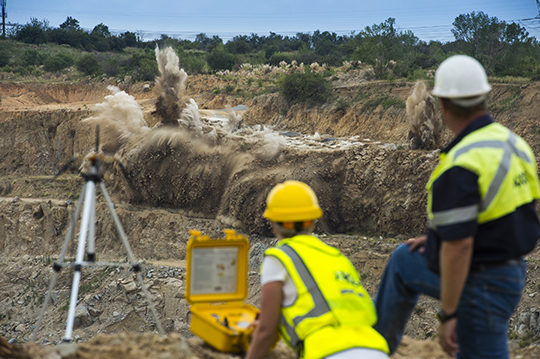 In today's aggregate production operations, there is fierce competition based on quality and cost. Primitive and unplanned work, not using technology in a rational way and ignoring research and development findings can all negatively affect producers in this competitive environment.
One parameter that has a significant effect on unit costs in aggregate mines is the cost of drilling-blasting. Blasting is one of the most important operations, and has substantial technical and economic effect on the mining projects. In such projects, the prime aim of blasting operations is rock fragmentation that is necessary for subsequent processes – such as such as load and haul, crushing and screening – to achieve a higher efficiency.
Good blast design and execution are essential for successful mining operations. Improper or poor practices in blasting can have a severely ill impact on the economics of a mine/quarry. How significant is the blasting process to the overall mining efficiency and productivity of the quarry?
Research company, ResearchGate finds that conditions of the drilling and blasting process directly affect the loading and hauling processes, which are considered among the major steps of mining. Selecting the wrong blasting pattern may cause inadequate loose volume at the end of the explosion and/or unwanted material sizes in the size distribution of the loose material. The pieces that do not comply with the feed opening of the crushing-screening facility have to undergo a second crushing process. The secondary crushing is undesirable because it causes both loss of time and cost increase. Thus, increased secondary crushing adversely affects production costs.
The same view is shared by Tony Rorke, Specialist AXXIS Application at BME, who says that the blasting process is critical to overall mining efficiency. "A poor blast result usually means sub-optimal fragmentation and tight muckpiles. This slows the entire downstream processes, from loading through to crushing," he says.
Rorke adds that the costs related to loading and crushing are a few orders higher than the cost of explosives, and poor blast results, therefore, have a major impact on cost and being able to extract value at the planned rate. "An additional cost is to the environment – where the extra energy expended in loading and processing, the coarser than planned rock produces about four times the greenhouse gasses," says Rorke.
Maximising load/haul productivity
The productivity of any surface mine hinges on the efficiency of its load and haul system. Yet, loading and hauling run of mine material represents a very significant component of the total operating cost. Consequently, the incentive to reduce cost in this area remains high.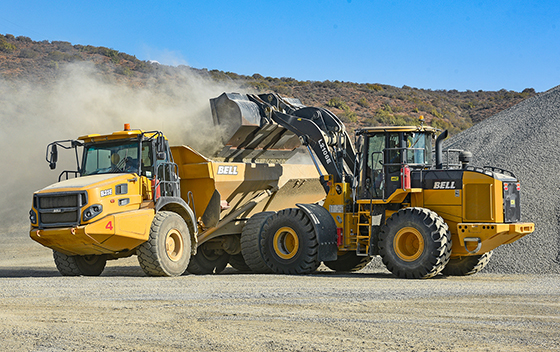 The current aggregates business climate is characterised by price volatility, high labour costs, shrinking margins and increasing operational costs. This is exacerbated by a steady decline in the growth of aggregates demand due to the lack of meaningful construction projects. For quarries to survive and mine profitably, they need to capitalise on the opportunity to improve their productivity and focus on one factor they can control: operational efficiency.
Increasing productivity is one of the key drivers to counter diminishing profit margins as it effectively reduces operating costs. However, the emphasis should not only be on increasing output with the same input, but increasing the output while decreasing the input, and ultimately adding optimum value to current resources. Research shows that an increase in production will ultimately decrease the operation's unit cost, especially fixed costs.
Load and haul is probably the biggest cost driver for any quarry. Yet, if properly implemented, a load and haul optimisation programme can identify significant opportunities for operational improvement. Brad Castle, Product Marketing Manager at Bell Equipment, estimates the cost percentage of load and haul in the whole production equation at a typical quarrying operation to be between 25-30% based on the whole operation cost, including site personnel and vehicle costs.
So, how can quarry owners reduce their operation's unit cost related to load and haul? A reduction in the unit cost of loading and hauling can been achieved, on one hand, by applying new and innovative mining equipment and methods, and on the other hand, by optimising the use of existing equipment.
What should a load and haul fleet optimisation programme entail? Castle says it is important to ensure that the machinery is correctly matched to the site and application, as well as the timing of cycles compared to the number of trucks.
"While this is so important, however, none of it will work unless the site is managed correctly. I would therefore say that site management is as important as the equipment on site. Bell has made this easier for customers by developing an innovatively designed fleet management system, Fleetm@tic®. Machine productivity, machine utilisation and machine condition can all be accessed from the owner's computer, tablet or mobile phone. Customers can therefore be rest assured that their investments are earning a maximum return. Machine breakdowns are also detrimental to an operation, therefore, managing preventative maintenance schedules is vitally important and Fleetm@tic® assists with this," says Castle.