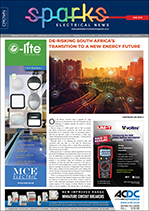 The liquidation of JDL Electric earlier this year caused its staff and creditors unintentional suffering. On February 4 2019, employees were informed that the company was being closed. Within 24 hours, one of the country's largest banks had filed a High Court order to liquidate JDL Electric, seized all assets and stock, and barricaded all operations. But how did this happen? CEO, Lee Kritzinger revealed all to Sparks Electrical News, without prejudice, in an open letter to the industry.
Elsewhere in June, Sparks Electrical News focusses on Tools of The Trade, Energy Measurement and Supply, Industry 4.0 and as Lighting.
Personality of the Month
Carel Scheepers, General Manager: Sales at Citiq Prepaid, has worked in the electrical industry for over 26 years and finds great satisfaction in building the solution to challenges. Every day new challenges emerge, and it is these that keep him motivated.
De-risking South Africa's transition to a new energy future
O.n the African continent, there is appetite for major infrastructure developments that are hampered only by challenges of capacity, whereas the picture is almost inverse in South Africa. "We are sitting on a GDP growth rate of 1.5% at present that affects infrastructure investment, and which was further exacerbated by an investment freeze as businesses adopt a wait-and-see approach ahead of the elections in May," says Tshepo Mofubetsoana, Broker Centre Manager – Construction & Engineering Division at Aon South Africa.
Working knowledge with Terry Mackenzie Hoy
Yow how it is that you 'Google' something and lists pop up? Lists like 'Ten things you didn't know about the royal family' and '10 things to do when you like Donald Trump'? This month Terry Mackenzie Hoy offers ten things you should bear in mind to keep you safe at work in the electrical world.
Buyers Guide
The June 2019 Buyers' Guide lists manufacturers and distributors of products and services in the energy measurement and supply sector. Download the guide here...