Alex Cremer, President of the Illumination Engineers Society of South Africa (IESSA) since 2018, believes that the lighting industry needs to work as one to create a sustainable industry which will support the thousands of people who operate in this space. IESSA plans to run a survey to get a full understanding of the size of the industry, and IESSA's goal is to use this information to bring all aspects of the industry together.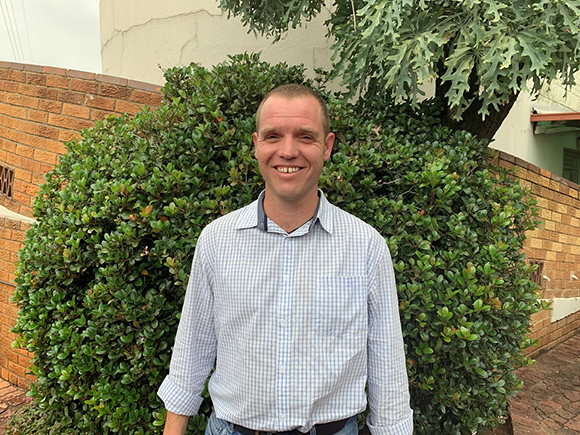 Sparks: How long have you been involved in the lighting industry?
AC: I started working at Giantlight in 2009, but how I ended up in the lighting industry was quite random. I had been working at Voda World as a customer care supervisor for five years and thoroughly enjoyed it but I got to a point in my career where there were no further growth opportunities. At the time my late uncle was working on a concept for electrified palisade fencing and this intrigued me tremendously. A friend then introduced me to Otto Horlacher from Giantlight and my journey in lighting began. I was with Giantlight for three years; my core focus was on areas where I perceived there to be challenges and ended up taking over production. Working with Otto, I gained a huge amount of experience on product development and production. I then worked at Regent Lighting Solutions, Dexitrade, Verbatim and Reeflite. In April of 2019, I was appointed as the National Sales and Marketing Manager at Nordland Lighting.
Sparks: What is the greatest change you have seen in the industry over the years?
AC: There have been huge changes. If you had said to me that we were going to be playing in the space where people talk about 180 lumens a watt on efficacy, I wouldn't have believed you. I started with what was referred to at the time as K2 LEDs, which had two legs that you could solder onto a board with a little thermal pad behind, and then we were running at maybe 80 lumens per watt. Lighting has become extremely technical. So many measurement parameters are being used today and I don't think everybody fully understands the true implications of these. We talk about efficacy very loosely, but to me it is a very technical component. There is always going to be this technical difference between what the light source produces versus what the actual output is. I believe that's where a lot of people misuse information. Power factor used to be a big thing before efficacy took on such an important role. And then you have a whole lot of technical aspects to focus on; blue light hazard, flicker ratio percentages, stroboscopic effect, EMC …
Sparks: What would you say are the current challenges facing the South African lighting industry?
AC: It's a very difficult question because there are three aspects to our local industry. We've got local manufacturers, component companies who supply the local manufacturers, and importers. How to clearly define and position these companies is always going to be a challenge, as they all add value to the lighting industry. I experienced the unfortunate reality of a company where I was working being liquidated. There were a few reasons for this, but the market has been driven into such a price sensitive space that companies have to be able to compete, and if they can't compete, then they are going to close their doors. But how do we protect the local industry? This is one of the current key drivers within IESSA; what are we going to do as an industry to protect ourselves? This is difficult to manage when you are a member-run organisation, run by members, for members, on a voluntary basis. We need the proverbial 'bench-sitters' to participate. What I have to be clear about is that local manufacturers can't do what they do without the component suppliers. Whether you're a local manufacturing component supplier or an importer you still add value to local manufacture. And we need to work with importers. There are some who operate in a 'best practise' ethos; they have their LOAs in place and they do everything in the right manner. But it's those companies that are 'freeriding' that ultimately affect the local manufacturers and the companies that do participate correctly and that's going to be a key focus point for us in future.
Sparks: Have you had a mentor in the lighting industry?
AC: Absolutely. There are many. When I speak to Otto today, I still feel there's a teacher-pupil relationship, and I don't think it's ever going to change. He had a huge impact on my lighting career and taught me what was the foundation within my lighting career. From Randal Wahl at Regent and Manny Cross at Verbatim I learned the different ways of running a successful business. I think the biggest role model I've had from an IESSA perspective is Natasha van der Walt. We work incredibly well together, and from a mentoring perspective, she has definitely taught me a lot.
Sparks: What do you enjoy most about your role at IESSA?
AC: I enjoy how we operate within council, and how committed the individuals are, who go way beyond what's expected as a council member, bearing in mind that this is done in our free time and we don't get paid for it.
Sparks: Do you have any advice for the electrical contractors?
AC: Electrical contractors need to speak to individuals who speak lighting. Lighting is a language. The proverbial 'goed koop is duur koop' concept comes to mind; you've got to install the right product. I don't expect electrical contractors to know everything, but they've got to have a support structure that allows them to advise correctly. Unfortunately, there are a lot of 'car boot' traders in our industry, and invariably what happens is price gets driven down. We've got a wealth of information within IESSA; from a lighting design perspective, we've currently got 10 registered Accredited Lighting Practitioners (ALPs) who have an intricate knowledge of what should be used.
Sparks: Do you have a favourite quote?
AC: RTFM, Read the flipping manual and 'When life gives you lemons, make lemonade'. I think the big thing for me, which is why I'm also involved in Scouts, is it is simply a case of I want to have an impact and add value to people's lives. And if I can do that through IESSA, through scouting, and the people I am working with at Nordland Lighting, I am able to add value to society.
Sparks: What's on your bucket list?
AC: There's a thing called the Put Foot Rally that happens every year; you take a certain class of vehicle and travel from Cape Town through Sub Saharan Africa and land up in Mozambique, and I'd love to do that. I've been very fortunate to travel a lot by virtue of the companies I've worked for, and I would love to be able to take my wife to some of the places I've travelled to. And finally, I would like to go back into motorsport again. I used to do off road racing and I'd love to be able to get back into that.
Enquiries: www.iessa.org.za