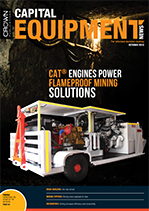 On the Cover:
Mining machines working in hazardous environments, both on and below surface, need reliable, robust engines that are cost-effective to maintain. The Cat C7.1 engine, with a power range from 112 kW to 186 kW, has become the engine of choice for flameproof OEMs looking to power a wide variety of machines and utilising components from respected flameproof equipment manufacturers.
The Cat C7.1 engine features a full mechanical fuel system and engine governing, making it ideal for the flameproof mining machine market. "Barloworld Power has supplied Cat engines to the South African flameproofing sector since local OEMs began to develop flameproof machines back in the mid-1970s," explains Venash Raghunanan, industrial sales manager at Barloworld Power, the southern African dealer for Cat power systems.
"The industry has matured tremendously in the past 40 years," he adds. "For example, in 2012 Barloworld Power was part of a multidisciplinary project team that successfully flameproofed a Cat C7 electronic engine for an underground coal mine. The flameproof Cat C7 engine powered a 4x4 Bateleur underground stone duster built by White River-based OEM, Bird Machines. This was only the fourth Cat electronic engine to be flameproofed worldwide."
"However the use of electronic engines for flameproof applications was fairly short-lived and in recent years mechanical engines have once again become the standard due to the high cost of repairing electronic engines," says Raghunanan.
In line with this shift, Barloworld Power today offers a range of Cat mechanical engines certified for flameproofing with outputs ranging from 38kW to 186 kW and more if needed. The range includes the C2.2, C4.4, 3054C and the C7.1.
"The recent demand for mechanically-driven engines, particularly in the underground coal mining industry, also revolves around the significantly lower initial cost and better fuel economy of Caterpillar's mechanical system engines," he points out.
Into new terrain
With an apparent growth of the 100 t rigid hauler market – mainly driven by demand from the contract mining fraternity – Liebherr Africa is excited to enter this market segment for the first time following the arrival of its first T236 rigid hauler, said to be the first diesel-electric truck in this size class.
Following the completion of field operation trials at Austria's largest iron ore mine, Erzberg, the first Liebherr T236 rigid hauler has arrived in South Africa. This is part of the pre-series units being rolled out to selected operations across the world to further validate the truck's capabilities before its commercial launch. Liebherr Africa intends to deploy the truck to work at a leading Northern Cape mine.
Tom Munch, Director Mining, says the new 100 t offering arrives at an opportune time for Liebherr Africa. "We are working in a contract mining market. If you look at the type of equipment this group of customers requires currently, it's mainly 100 t excavators and 100 t dump trucks. This is due to the mobility they require, given that their contracts are limited to 3-5 years at most," says Munch.
Munch adds that Liebherr also urgently needed a truck to complement its excavator range. Designed to carry up to 100 metric tonnes of payload, the T236 can be ideally paired with Liebherr's R 9100, R 9150, R 9200 or R 9250 mining excavators.
Munch reasons that the T236 is ideally suited for the contract mining market because it speaks directly to lower cost per ton, increased productivity and safety, three key parameters of sheer significance to mining contractors, especially in light of the current tight operating conditions.
Towards fully-electric, autonomous trucks
As the eTrucks revolution continues to gather pace, UD Trucks has announced the launch of its Fujin & Raijin. Vision 2030 – an innovation roadmap which aims to deliver a variety of solutions for smart logistics, including fully-electric and autonomous trucks towards 2030. The roadmap focuses on the key areas of automation and electromobility to address the challenges of a rapidly-changing world.
As part of the Volvo Group, UD Trucks is an active participant in the Volvo Concept Lab – a joint technology communication platform which enables the companies within the Volvo Group to showcase their research and development projects. "There is therefore a wealth of knowledge throughout the Volvo Group that can be leveraged as we consider the best way forward in creating new solutions for customers and the industry in general," says Rosenberg.
True to UD Trucks' vision to provide the trucks the world needs today, the Japanese truck maker's innovation roadmap takes a step-by-step approach together with customers to offer commercialised solutions for select automation and electromobility applications from 2020, with a view toward full-fledged commercialisation by 2030.
UD Trucks takes inspiration for its innovation roadmap from the gods of wind and thunder, as depicted in the famous gold-embossed Japanese folding screen, "Fujin and Raijin". UD Trucks' progress in automation is inspired by Fujin, the god of wind, who symbolises the power of movement, while its work in electromobility is inspired by Raijin, the god of thunder, who symbolises the power of energy. With "Fujin & Raijin. Vision 2030." UD Trucks is committed to developing smarter logistics solutions in these key areas, enabled by advances in connectivity and digitalisation.