The extensive footprint of Johnson Crane Hire across South Africa, and the establishment of large cranes at each branch, makes for fast and cost effective service to customers.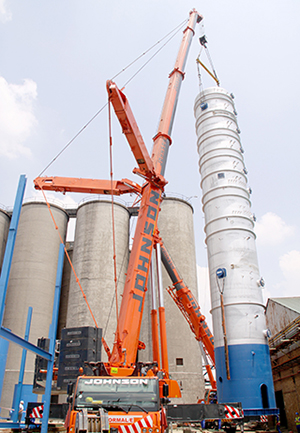 With the most extensive fleet of mobile cranes in the country, the company can make any size of crane quickly available, as each branch stocks a wide range. The branches now also stock Manitou telehandlers and access platforms – an added lifting solution for material and people.
"Our decision about three years ago to decentralise our big cranes – anything from 180 to 440 tonne capacity – to our branches, holds many benefits for customers," says Cedric Froneman, sales executive – key accounts at Johnson Crane Hire. "The immediate advantage is that equipment is closer to site, saving transport time and cost."
Froneman highlights that the company's twelve branches, located in seven of the nine provinces, are also well equipped to support the cranes on hire.
"At each of our branches, we have a manager and technical representatives supported by mechanics," he says. "Each branch also has a workshop to carry out repairs and services."
Major repairs and rebuilds are conducted in the national workshop in Germiston, Johannesburg. This facility also gives each crane a major overhaul every five years, ensuring that they are in immaculate condition to optimise uptime on site.
"The extent and capacity of our footprint underpins our 'SMART' brand promise to the market," he says. "First priority is 'S' for safety; we help customers apply high safety standards. This includes the rigging services offered at each branch, including CAD and lift studies for upfront planning and lift engineering."
'M' is for the regular maintenance of equipment, while 'A' refers to being available wherever and whenever the customer requires. Finally, the 'R' is for reliability of both machines and people, and 'T' is for the total cost effectiveness of Johnson Crane Hire's lifting solutions, says Froneman.
Each of the branches tends to have its own industrial focus, but new markets are always catered for. In Cape Town, for example, the large 440 tonne crane has ongoing work in unloading and ship refitment work at the harbour; however, there has been a growing need for heavy lifting of wind turbines in the renewable energy sector.
In Durban, where a 275 tonne unit is permanently established, much of its work is for the petrochemical plants. Inland, there is another 275 tonner established at Burgersfort, mainly for mine-related work which is also serviced by the branches at Trichardt, Middelburg and Rustenburg; all these operations also have fleets of large cranes as well. A smaller branch at Kathu services mainly the iron ore segment and a growing market in renewable energy.