We will be showcasing how businesses can leverage the potential of new and exciting technologies such as the Industrial Internet of Things (IIoT) and Augmented Reality (AR) to shape the way they do business in the smart connected world allowing Africa to leapfrog the traditional economies.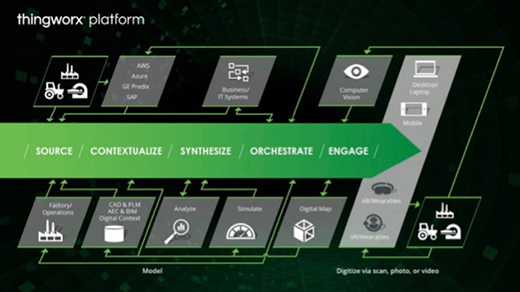 Industrial Internet of Things
productONE and 1Worx uses PTC's market leading Industrial Innovation Platform, ThingWorx, to unlock the value of IIoT. ThingWorx is a complete, end-to-end technology platform, which includes open and compatible modules that deliver the functionality, flexibility, and agility enterprises need to implement IIoT apps and AR experiences. These consist of industrial connectivity, analytics, application enablement, orchestration and AR authoring.
Augmented Reality
Augmented Reality has the power to fundamentally change the way people work. It bridges the digital and physical worlds, providing value across the enterprise. When coupled with IIoT data, AR applications become truly transformative experiences, driving many enterprises to completely re-imagine how they sell, design, produce, operate and service their products.
Experience the 4th Industrial Revolution live at stand D27!
Contact marketing@prodone.com for more information.