Pretoria-based Zap Wholesalers was born from an idea and cultivated into a reality way beyond the expectations of founder Zunaid Adam. From a car boot to having its own warehouses, the company has grown from strength to strength due to hard work, unwavering faith and a drive to treat customers and suppliers with respect.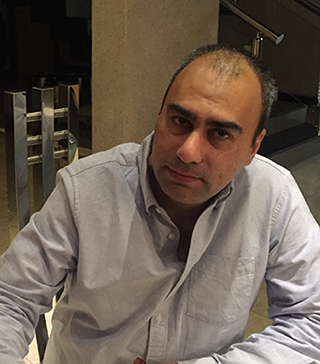 Sparks: Where were you educated?
ZA: I grew up in a small town called Laudium and still reside near there. I did my schooling at Laudium Secondary where I passed Matric and then went on to study a BCompt accounting degree through Unisa. However, I did not complete my studies because I met the love of my life and got distracted after marriage.
Sparks: How long have you been involved in the electrical industry?
ZA: I have now been in this industry for almost 25 years.
Sparks: When and where did you start your career?
ZA: We started our business on April 23, 1994. When the apartheid era had just ended, we realised that there was a demand for electrical accessories due to low cost housing projects, and started by loading our car and going from shop to shop selling as much as we could.
Sparks: What are the greatest changes you have seen over the years?
ZA: The greatest changes in the electrical industry would be the number of manufacturers, importers and distributors that have changed the face of the 'monopolistic' industry in the old days of South Africa.
Sparks: What major projects have you worked on and what is your greatest accomplishment?
ZA: The major projects we have worked on are religious establishments and schools as well as lighting up homes of the under privileged. Our greatest accomplishment was working on an orphanage without electricity, and after being 'zapped' by us, seeing the joyous faces of the hundreds of kids.
Sparks: Have you won any awards?
ZA: Our company has won the PMR golden award and the TMS bronze award as well as many supplier and client of the year awards.
Sparks: Who has been your inspiration, or have you had a mentor who has influenced your career?
ZA: As a way of life, we follow the lessons of our Great Prophet Muhammad. We need to ask ourselves in our daily tasks, would he do it this way? Would he be happy if we did it that way? My biggest inspiration and mentor is my wife; she is my advisor, my confidant and has been my companion and worked with me every step of the way. There were many days when she would look after the goods in the car and sweated in not-so-nice places, waiting for me to complete sales and deliveries. Our loyal clients and suppliers, of course, have taught us many lessons over the years and we continue to learn from them every day. Our loyal and dedicated staff – who are more like family – allow us to look forward to going to work.
Sparks: What, to your mind, is one of the biggest challenges facing the industry at this time?
ZA: The huge influx of non-compliant products coming into the country with little or no repercussions for the guilty parties. The end users are the ones that suffer because they have no idea how dangerous sub-standard electrical products are.
Sparks: What do you enjoy most about your job?
ZA: Meeting lots of different people, bargaining and most of all, closing 'the deal'.
Sparks: How do you motivate your staff?
ZA: We motivate them by encouraging them to understand the necessity of effective customer service and quality control. When they get good reviews, it helps uplift their spirits. We need to treat our customers and suppliers the way we would like to be treated by them. We also work in a family-like environment and we work 'together' rather than them working 'for' us. Our objective, after all, has always been to provide the community of South Africa with quality products at an affordable price.
Sparks: If you could 'do it all again', would you change anything? If so, what would that be?
ZA: I would do everything exactly the same except that I would always listen to my wife's advice – I have burnt my fingers every time I didn't take her advice!
Sparks: Would you advise a person leaving school to enter the electrical industry? And why?
ZA: Most definitely. The electrical industry is growing by the day. Young bloods with their bright ideas can definitely make a go of it. It entails lots of honest hard work, but it's all worth it. Our 'daily bread' can't be earned without working hard, especially in tough economic times.
Sparks: What is your advice to electrical contractors and/or electrical engineers?
ZA: I would plead and ask them not to use the cheap and sub-standard products that are out there. Not only is it unethical' but it is dangerous as well.
Sparks: What is your favourite quote?
ZA: "Your positive action combined with positive thinking breeds success."
Sparks: Name three things on your 'bucket list'.
ZA: The first one would definitely be to do more to help the under privileged. True happiness is found when you help others. Second would be to franchise Zap, and thirdly, and selfishly, would be to travel the world.
Enquiries: +27 (0)12 666 9272