Following the Philip Doubell Memorial Lecture at the Eskom Academy of Learning in October, Sean Blake reflects on Philip's life and his groundbreaking work as part of the development team for WeldCore®.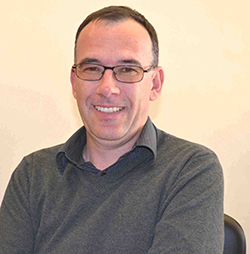 On reflecting on recent events, I think it appropriate to first pay tribute to Philip Doubell, who died just over a year ago. Philip was this year's recipient of our Gold Medal Award, in recognition of his dedication as a welding engineer.
On October 25, in association with Nelson Mandela University, we hosted the Philip Doubell Memorial Lecture at the Eskom Academy of Learning in Midrand. It was presented by Neil James, who was Philip's friend and colleague and, with Philip and Danie Hattingh of eNtsa, an integral part of the development team for WeldCore®.
According to Neil James, WeldCore was a step change in the industry for creep monitoring of high-pressure, high-temperature equipment. What Philip, Danie and the eNtsa team came up with was a system to bore out a core shape from the wall of a pressure pipe, cut off the core for creep sampling and then to immediately weld up the hole using Hydro Pillar Processing.
WeldCore has saved Eskom millions of rands, because accurate creep monitoring enables the life of power plants to be safely extended. And today, because of Philip's vision, eNtsa and Eskom are world leaders in the development and use of this unique technology, which is now ASME approved and deployable.
As Neil James said, the leap of faith between industry and academic research & development is o en huge in this country, but Philip was a visionary who loved locally innovated solutions. WeldCore is exactly that; a world-leading technique developed right here via a partnership between industry and eNtsa, a university-based R&D group.
A dedicated contributor to the welding industry who made many valuable technical contributions and provided inspiration and mentorship to many of his colleagues, Philip Doubell was a truly worthy winner of our SAIW Gold Medal.
Also at this year's annual dinner, we introduced two new awards: the Best IIW ISO 3834 Manufacturing Certification Company award, and the Best Responsible Welding Coordinator Award. The number of nominees for these awards speaks volumes about the progress SAIW and the South African welding industry have made with regard to implementing ISO 3834 and raising our weld quality standards.
We have made significant strides in increasing the numbers of manufacturing companies certified to ISO 3834 and there are now over 160 companies on our approved list. The numbers of qualified IIW Welding Coordinators, IIW Welding Engineers and IIW Inspection Personnel is another pleasing and significant indicator of our industry's progress towards achieving international quality and qualification levels.
Looking forward, I am pleased with the progress being made in our Future Welder Training Centre. We recently took delivery of a welding robot donated to us by Yaskawa Southern Africa, which adds to the Lincoln Electric REALWELD and ClassMate Robotic welder trainer systems and two Soldamatic augmented-reality welding simulators. We will be using this centre to fast-track initial welder training and to enable us to add robotic welding courses to SAIW's training offering.
In early January 2019, we are hosting the SAIW Youth Challenge 2018/2019 here in Johannesburg. So anyone who knows of a promising young welding talent, please encourage them to enter. There is a prize of R15 000 cash available to the winner. We see this competition as very important for promoting welding as a challenging and rewarding career.
Philip Doubell's life teaches us that passion for welding and a vision for local innovation leads to success. We look forward to more of our young welding professionals following in his footsteps.
Sean Blake