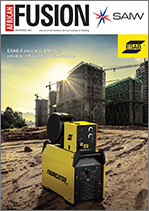 ESAB and its new range of efficient and affordable Fabricator Pro EM series power sources features on the outside front cover and in the cover story his month. Other notable articles include our member profile of DEKRA Industrial, Afrox's new GasReach and Miller ArcReach solution, voestAlpine Böhler Welding's new pipeline welding offering; and our interviews with Paul Kah about intelligent GMAW and with SAIW's John Tarboton and Etienne Nell about the Mpumalanga Stainless Initiative as a vehicle for South African re-industrialisation.
ESAB's new Fabricator Pro EM series: reliable, efficient and affordable

African Fusion talks to Jannie Bronkhorst about ESAB's new Fabricator Pro EM series of heavy-duty, inverter-based systems for MIG/MAG and stick welding. Read more…

A message from John Tarboton

The SAIW executive director highlights some SAIW initiatives and alliances – the TWF, the Welding Innovations Network and the MSI, for example – to take the SAIW from recovery into growth. Read more…

The MSI, industrialisation and welding capability

SAIW's John Tarboton and Etienne Nell outline SAIW's plans to collaborate with the Mpumalanga Stainless Initiative (MSI) to unlock industrialisation potential. Read more…

Building and integrating Africa's manufacturing capacities

Ayo Adeniyi, of the NIW reviews the practices that have caused Africa's growth in manufacturing to stagnate and the new concepts being implemented by TWF to industrialise the continent. Read more…

Advanced inspection services for a more sustainable future
African Fusion talks to Johan Gerber, managing director of DEKRA Industrial RSA about his company's offering and successes. Read more…

Towards intelligent GMAW

African Fusion talks to Paul Kah, President of the Cameroon Welding Association (CWA); about his new book: 'Advancements in Intelligent Gas Metal Arc Welding Systems; Fundamentals and Applications'. Read more…

Welding stainless steels without impacting corrosion resistance
Michael Fletcher, a consultant to Huntingdon Fusion Techniques, HFT®, explains why welding and weld finishing can cause stainless steel to corrode and how weld purging solutions can minimise this risk. Read more…

Afrox GasReach with Miller ArcReach: A 360° construction site solution
Johann Pieterse of Afrox talks about the combination of Miller ArcReach technology with Afrox's GasReach solution. Read more…

Air Liquide and Oerlikon strike new partnership

African Fusion talks to Air Liquide's Hard Goods Manager, Willie Burger, about a new partnership between Air Liquide in South Africa and Oerlikon. Read more…

Barnes Fencing enhances operational efficiencies with SYSPRO

By adopting SYSPRO ERP solutions for metal fabrication industries, Barnes Group has successfully consolidated its production and enhanced logistics efficiencies. Read more…

Pipeline welding solutions for high quality and high productivity

Francesco Ciccomascolo of voestAlpine Böhler Welding presents new pipeline welding solutions, which are soon to be rolled out across Africa and the Middle East. Read more…

Cosmo Academy: local skills for local industry

African Fusion talks to Emma Britz about the Cosmo Training Academy's evolving training offering. Read more…

ArcWorld: Yaskawa's quick-start robotic welding solution

Yaskawa SA's Sean Low talks about ArcWorld, an affordable, compact and very simple to install robotic automation solution. Read more...

Direct torch extraction ensures clean hall air

A success story about Kemper's VacuFil high-vacuum torch extraction system in use at Aebi Schmidt Nederland. Read more...


Welding Innovation plus technology for better quality and productivity


African Fusion talks to Sean Blake of Arcstrike about an innovative and sophisticated polishing, pickling, passivating and marking solution for stainless steel. Read more...

AWC widens distribution of Böhler Welding range

Head of AWC, Gerhard van Wyk, talks about advancing the availability of the Böhler Welding product range in South Africa and across the African continent. Read more...

First Cut and GSI confirm merger of interests

GSi MD, Peter Rohlssen, and the MD of First Cut, Andrew Poole, talk about their collaboration agreement and its advantages for customers. Read more...

Welding and cutting Click to read in the online magazine...

Backpage: Testing pitting and corrosion with eddy current arrays Read more...