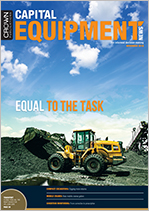 On the Cover:
A fleet of three SANY SYL956H wheel loaders supplied to Kusile Mining by Goscor Earthmoving (GEM) is proving to be equal to a taxing 24/7 coal handling task where its 4,6 m³ coal bucket is instrumental in achieving quick truck loading times, fast cycle times and reduced cost of operation.
Having previously used rented front-end loaders and run a few of its own units for coal handling applications at its two processing plants – Puleng and Woestalleen – Kusile Mining, an affiliated company of African Coal Trading (ACT), a 51% black-owned junior mining company, recently decided to purchase three SANY SYL956H wheel loaders.
Executives from the Kusile Mining (the company) visited GEM to enquire about SANY excavators. While they were on the premises, they spotted the SYL956H wheel loaders, and were impressed with what they saw. The company placed an order for three units, which were delivered on 16 August this year.
Kusile Mining operates two opencast coal mines, Uitspan Colliery, eMalahleni, and Noodhulp Colliery, located close to Eskom's Hendrina Power Station. The coal produced at each mine site is transported to the company's processing sites, Puleng and Woestalleen. The two processing plants have a combined throughput of approximately 220 000 tonnes (t) per month, with Puleng accounting for 80 000 tonnes, and Woestalleen for 140 000 tonnes.
The company produces a variety of coal products for the markets it supplies, including Peas, processed coal in the 10-30 mm size range, and export grade coal of varying coal quality specifications. The good raw quality coal produced from Uitspan and Noodhulp enables the company to supply its markets with superior quality coal which is in high demand. Mr. Hendrik Pieterse, group engineer at ACT, explains that of the 150 000 tonnes of coal product produced at the wash plants facilities, about 20 000 tonnes is destined for inland consumption, while the rest is currently being supplied to the export market.
Of the three SANY SYL956H loaders, two have been deployed at Puleng, and the third unit is working at Woestalleen plant. In an environment where a mine's success hinges on downscaling its operational costs, while maximising productivity, the SANY SYL956H wheel loaders are ticking all the right boxes for Kusile Mining on several fronts.
From the onset, Pieterse says the value offering made sense for Kusile Mining. Firstly, the price point was very reasonable. Secondly, knowing GEM's service capabilities meant peace of mind for the customer. Apart from the price point and GEM's service record, Kusile Mining was also impressed by the Goscor Finance offering. In fact, the coal mining company secured a R5-million financing facility from Goscor Financing for its R6,5-million deal.
New mobile cranes galore
New mobile crane premieres at bauma 2019 showcased manufacturers' design focus on high performance, economy and outstanding return on investment. Munesu Shoko attended the show and filed this report.
At bauma 2019, Liebherr and Manitowoc showcased new offerings from their mobile crane divisions. Liebherr unveiled four new products, featuring high performance, economy and flexibility thanks to the consistent advanced development of successful technologies.
Two of the new cranes had already been presented at the 2018 customer days at Liebherr's manufacturing plant in Ehingen – the five-axle 230 t LTM 1230-5.1 mobile crane and the LR 1800-1.0 crawler crane with a maximum lifting capacity of 800 t. The Mobile Cranes Division unveiled two brand new products at the show – an 8-axle mobile crane designed for maximum performance and a 5-axle crane whose designers gave economical and flexible crane jobs around the world the highest priority.
Manitowoc launched an impressive new unit in the five-axle category and two new three-axle models. Andreas Cremer, global product director for all-terrain cranes at Manitowoc, says the launch of the new models underlines the company's increased speed of product development under The Manitowoc Way and its ongoing commitment to building cranes that offer outstanding return on investment.
"We believe in developing cranes our customers can use in a wider variety of projects for better return on investment," says Cremer. "The GMK5250XL-1 is a great example of how we do that. It's an update to our existing GMK5250L but we have added 8,5 m of boom for more reach, so it can take on more jobs. At the same time we have maintained the class-leading lift performance, manoeuvrability and fast set-up of the GMK5250L, which makes it such a popular choice with our customers."
Helping truck owners reduce costs
Through a combination of hardware and software upgrades on its Euro 3, Euro 4 and Euro 5 versions of its D13 engine – to be introduced early next year in the FH, FM and FMX ranges – Volvo Trucks Southern Africa will enhance its customers' profitability with up to 3% fuel savings.
Road transport is one of the backbones of any economy and it is a major component of the supply chain to ensure the efficient movement of goods. To sustain their businesses in a challenging economic environment, truck operators are looking at every opportunity to cut their operating costs. Fuel – which can usually account for up to 50% of total operating costs – is one major cost that every fleet owner is looking to reduce.
With that in mind, Volvo Trucks Southern Africa is introducing new software and hardware upgrades to its D13 engine. Speaking at the recently ended Futuroad 2019, Malcolm Gush, sales director at Volvo Trucks South Africa, said the hardware and software upgrades on Volvo's 13-litre engine, the most prominent motor in the local market, will enable fleet owners to record fuel savings of up to 3% in long haul applications. The upgrades will be available for locally-produced Volvo Trucks' FH, FM and FMX model ranges from January 2020.
Marcus Hörberg, vice president of Volvo Group Southern Africa, says the new upgrades are in direct response to customer needs. He believes that, as a premium OEM, Volvo Trucks has a role to play in assisting its customers to cut their operating costs, thus increasing revenues, become more efficient and more profitable.
"As society changes and develops, our customers require enhanced fuel efficiency for their fleets. With this new technology and engine hardware, we are assisting fleet owners to achieve better results, and thus saving money and ultimately increasing their profits," says Hörberg.
Gush says the new developments are in line with Volvo Trucks' continued journey to reduced fuel consumption in its trucks. "Given that the fuel element – for a typical South African transport operator – is as high as 50% of total operating costs, at Volvo Trucks we believe we have a big role to play as an OEM to help our customers save fuel and improve their profitability," says Gush.
Gush adds that fuel efficiency improvements at Volvo have been ongoing for many years. "If you look at our fuel journey from 1976 when we first introduced a turbo engine to where we are today, we have seen a 50% reduction in fuel consumption in our engines. At the same time, power on our trucks has almost doubled. That translates into increased productivity at less operating costs, thus improving customer profitability and overall customer success," adds Gush.