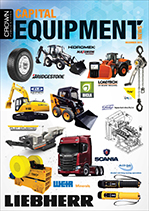 From the Editor's desk:
In what has been another difficult year, the construction and mining equipment market continued to lose traction. Latest COMNESA figures show that equipment sales in Q3 followed the downward trend experienced in the first two quarters of the year, marking a third consecutive negative quarter.
Overall, the market decreased by 9,7% year-on-year, with construction equipment sales going down 11% and mining equipment sales contracting by 3,6%. Quarter-on-quarter, sales of new equipment went down by 6,42% in Q3 2019 when compared with sales during the same period in 2018. Figures show that 1 357 machines were sold during Q3 2019, 93 units less than the 1 450 sold during the same period last year.
In a recent interview with a representative from one of the leading premium OEMs, he noted that with the market being under pressure, local customers are becoming more open-minded about trying new products and more cost-effective solutions. This trend is expected to gain momentum as the market remains under pressure and customers have to deal with the ongoing uncertainty.
The trend is not unique to the local market alone; there is definitely a big global shift towards low-spec, low-priced construction equipment, better known as value brands. In fact, available industry statistics show that value brands currently contribute about 80% of global construction machine sales. However, this is more prevalent in developing markets. To give a context, Chinese brands now have a 60% share of the African wheel loader market, while 80% of the same market segment in Russia belongs to value brands at large.
In other words, customers are opting for less expensive, non-premium machines capable to undertake less rugged jobs, where premium machines are not essential. There is big demand of service type machines. The high-spec, high-price category remains, but it has been challenging to sell this range of machinery, especially in struggling economies.
Chinese OEMs are largely the custodians of this market tier, and I believe the days where their offerings were viewed with disdain are long gone. They have achieved this feat by improving the quality of their offerings. They have also stuck to their strategy of offering low-cost models with simple functionalities – pieces of equipment that just get the job done with no extra bells and whistles.
This is a new product development strategy in the manufacturing environment, aimed at meeting the challenge of global competition. To survive internationally, OEMs are strategically examining customer needs and values in all their served market segments. Increasing complexity and costs of new products place an increased importance on balancing the upfront costs of equipment and productivity.
Premium OEMs have long noted this trend. For that reason, they have also aligned themselves with low-cost brands in their stables to make the most of this growing market segment. For example, Volvo CE acquired SDLG some years ago, while Caterpillar bought SEM. The trend has even expanded into the crushing and screening market where Metso recently exercised its call option to acquire the remaining 25% of shares of Shaorui Heavy Industries Ltd, a Chinese manufacturer of crushing and screening equipment targeted for mid-tier markets.
This is a clear indication of the evolution of the simple tool. Innovation is traditionally defined by sophisticated technologies, but in these challenging economic conditions, it shouldn't always be the case. Some of the best ideas, especially in today's designs of yellow metal equipment, are very simple, based on a clear and deep understanding of customers' needs – finding balance between simplicity, productivity and price.
Munesu Shoko – Editor
Enhancing asset optimisation
Condition monitoring plays a critical role in asset optimisation and improvement of productivity. In fact, it has been proven time and again that there is a direct correlation between an excellent condition-based maintenance programme and asset availability.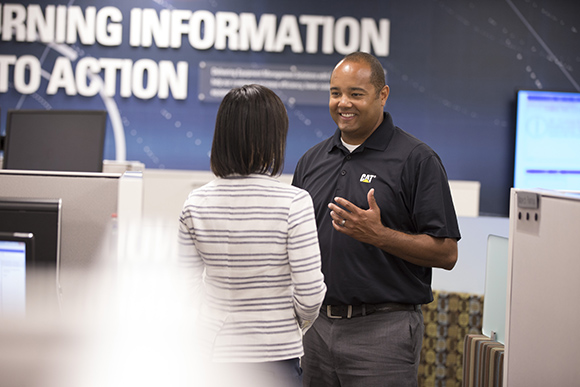 Condition monitoring has gained prominence over the years, as equipment owners prioritise asset utilisation and productivity. The ultimate goal of condition monitoring is to schedule maintenance based on condition rather than historical data, to avoid failures and to increase plant availability through optimal use of resources and equipment.
Caterpillar defines condition monitoring as "the pro-active process of evaluating equipment and application data inputs in order to provide maintenance, component replacement, application and repair recommendations that help customers lower owning and operating costs, improve availability and reduce warranty costs".
"An asset can tell a story through its information," says Mark Kelly, condition monitoring advisor at Caterpillar. "The information may come from several sources, including machine electronic data, fluid sample analysis, inspections, site conditions and repair history. The information gathered may be very limited, such as fault notifications or it may be very extensive data, such as second-by-second data from Caterpillar's Vital Information Management System. The story the information tells is contingent on the sources and the underlying details in the data."
Kelly adds that in-depth condition monitoring uses all the information available to identify the needs of the asset and allows for a planned response to those needs. This, ultimately, supports fleet owners by reducing unplanned downtime, lowering parts and labour costs and increasing asset availability.
Philip Schutte, reliability solutions manager at WearCheck Africa, says one of the primary goals in a condition monitoring programme is to identify early mechanical, electrical or flow-related defects in their incipient stage, and then to monitor the severity of the malfunction, allowing remedial action to be scheduled on the affected component.
"This minimises the possibility of unplanned or catastrophic failures, which may lead to a severely negative effect on productivity (and on repair costs)," says Schutte. "The availability of machinery and components and remaining life is exponentially increased when a good condition monitoring programme is in place."
New Scania dealership for a major transport hub
Scania South Africa's newly-opened, fully-fledged dealership in Klerksdorp, North West province, is strategically located to service an area deemed to be the next major transport hub in South Africa.
A new, fully-fledged dealership in Klerksdorp enables Scania South Africa to better service its customers operating in in the North Western city. Klerksdorp is growing to be a major transport hub in South Africa. Officially opened on 21 November this year, the dealership is an upgrade of a previous Scania service centre which was shared with Scania's long-time customer, River North Carriers, owned by Flip De Bruyn.
Morne Botha, GM Central and Free State Region at Scania South Africa, tells Capital Equipment News that the decision to open a new branch was necessitated by the fact that the company had outgrown the previous facility.
Whereas the old facility was just a service centre, the new branch provides full Scania services, including sales and service. While the new branch is still located at River North Carriers' facility, it is a fully-fledged Scania dealership, managed by Scania South Africa and operating like any other Scania dealership in the world.
Hennie Gouws, Area Manager – Network Development at Scania South Africa, says the project is a perfect synergy, which enables Scania to provide quality aftersales service in a world-class facility, to a growing and strategically important group of Scania customers based in the North West Province.
"The facility was designed and specified according to Scania Real Estate Standards and developed in partnership with River North Carriers. More importantly, the facility, although based on River North Carriers' property, is staffed and managed by Scania and operates in exactly the same manner as any other Scania dealer in the world, where all customers are treated with the same level of high importance," says Gouws.