On the Cover: Founded 25 years ago, ETT has over the years expanded its traditional off-highway tanker trucks business to become a global designer and manufacturer of a diverse line of open pit mine support equipment and specialised mobile industrial equipment aimed at improving productivity and safety. Now offering a line of more than 70 machines, complemented by strategic global partnerships, the company has in the past five years embarked on a global expansion strategy with resounding success.

Building a company with staying power is no easy feat. The ability to weather storms and compete over decades – and longer – is a primary metric for the success of any business. Every organisation is unique, and there is no precise formula for sustaining a business long term.
For ETT, its 25-year success owes to offering products and services that continually surpass customer expectations, as well as nuanced growth strategies – of which internationalisation is one – and a close understanding of the competitive marketplace.
Reflecting on the past 25 years, co-founder Richard Everingham tells Capital Equipment News that a combination of design capability, technical excellence and manufacturing flexibility provided the business with a strong foundation for its long-term success. ETT was founded on its ability to design and manufacture ultra-low centre of mass off-highway tanker trucks.
"We have been and are still successful with our traditional off-road tanker business. We set the standard in water tankers some 20 years ago and still remain the market leader in that segment in sub-Saharan Africa. We have also revolutionised the off-road lowbed trailer and lubrication service vehicle business on the continent," he says.
In addition to its traditional mining support equipment business, ETT added the aluminium smelter logistic vehicle business to its portfolio in 1998. Since then, the company has established itself as a go-to solutions provider of mobile equipment for the aluminium smelter industry in southern Africa. This has led to the conclusion of a technology sharing and manufacturing agreement with GLAMA Maschienbau, GMBH, where ETT will manufacture a range of GLAMA equipment at their factory in Richards Bay, South Africa.
The attachment revolution: turning tool carriers into versatile instruments
An 'attachment revolution' is helping capital equipment owners maximise the versatility of tool carriers such as TLBs, excavators, skid steers, telehandlers and loaders, with many new attachments coming to market in recent years. Traditional attachments, including hydraulic hammers and buckets, have also seen significant improvements
To remain competitive in a challenging economic environment, equipment owners are looking at ways to make the most of their mini-excavators, skid steers and backhoe loaders, among others. The focus is therefore shifting to attachments as they can elevate these assets from one-dimensional equipment to multipurpose, adaptable tools.
When asked about this attachment revolution in which some companies offer up to 80 attachments from a single stable, Thabile Dube, product manager, Construction and Building: Southern Africa at Barloworld Equipment, says the development of attachments is a "customer cost solution" targeted at solving and improving machine versatility and utilisation.
"Attachments maximise customer productivity and growth by transforming or converting single-use units into many different types of machines that can perform in varied applications," she says.
Bobcat Equipment sales consultant Brad Freeman says the use for attachments has grown because of the numerous applications in which these machines are used. "Attachments are now more in demand than before, with the rising cost of labour."
Mishen Naidoo, engineering and solutions manager at Manitou Southern Africa, says the economic climate has been demanding on the business owner, with competitive markets and a variety of options for customers to choose from.
"The typical business owner's reaction is to search for improvements in efficiency, which improve their bottom line. This has led to many businesses looking for versatility from their machines – machines that can perform multiple tasks. The key to this is a vast selection of attachments."
Maximum Equipment MD Vaughan Ellis sums it up: "It is about getting the best use from your machine investment and reducing labour costs in order to maximise productivity and efficiency".
Compact excavators – leading the road to electrification
As electromobility in construction equipment takes shape, the compact equipment sector, especially the mini excavator, is leading the road to electrification, with several models recently coming to market on a commercial basis.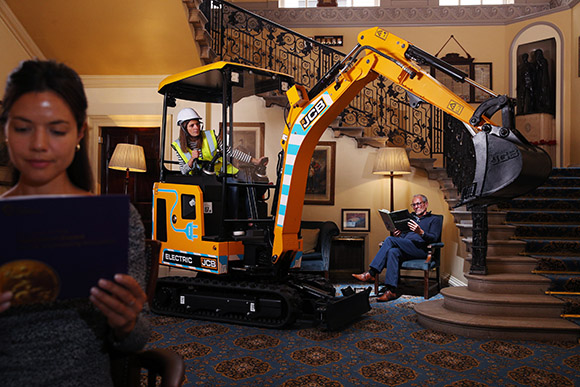 It is clear that initial strides into electromobility by construction equipment makers are anchored by compact gear, especially mini excavators and loaders. Some of the names that have already announced commercial launches include JCB, Bobcat and Volvo Construction Equipment. Caterpillar last year also announced that it is working on its Concept 906 – a fully electric drive compact wheel loader powered by a zero emission lithium-ion battery.
Commenting on why the compact excavator space is leading the road to electromobility, Andrew Boyers, GM – Africa at JCB, says the market potential for this range of equipment is massive, and includes indoor working (where the need for diesel fume extraction is avoided) and quiet urban working, among others.
"More companies – especially utilities, who use many compact machines – are wanting environmentally friendly products. The energy requirement – battery size – for a full day's shift is easier and more cost-effective to package on a machine which typically doesn't run 8 – 10 hours in a working day, like say, a heavy excavator on a large construction site," explains Boyers.