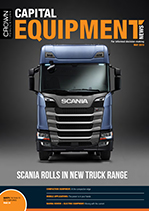 On the Cover: Scania Southern Africa is introducing a completely new truck range. This is the result of more than 10 years of development work and investments globally.
With the new range, Scania is extending its offering and can now supply more performance stages, connectivity and a comprehensive palette of productivity-enhancing services, as well as sustainable transportation solutions that are precisely customised for each type of customer in the highly-competitive transportation industry. With the new range, Scania promises that customers – regardless of the industry and area of application – will be able to carry out their work in the most sustainable and profitable way.
"It is undoubtedly the biggest investment in Scania's 125 year history," states Henrik Henriksson, President and CEO of Scania. "It is with hearts bursting with pride that my colleagues and I are now presenting the products and services that will bring Scania to new levels regarding market shares and carry us far into the next decade."
The assembly of the new truck range has started in South Africa and the old PGR range is being strategically phased out. The new truck range carries with it a unique toolbox of sustainable solutions in the form of products and services that Scania globally will be the first to deliver in the market.
"At Scania our main focus is always to give our customers the tools that they need to achieve profitability in their business and in 2019 we expand on this focus and reach a milestone by launching our new truck series. Delivery of the new trucks begins immediately after the launch event. It's normally a 15 to 20-year cycle before you go to market with a totally new vehicle. It's an exciting period for us," says Raimo Lehtiö, MD of Scania Southern Africa.
Along with a comprehensive variety of applications and solutions, the segments that are being launched for the Southern Africa market are Long Haul, Construction/Mining and Urban Distribution.
Digitalisation – a different dynamic to maintenance
Controlling cost and expenses has always been the biggest challenge faced by many maintenance managers. In a world where there is pressure to do more with less, digitalisation is changing the face of preventative maintenance. Sandvik Mining and Rock Technology is one of the OEMs at the forefront of the digital revolution and believes digitalisation offers a different dynamic to preventative maintenance.
Traditionally, equipment maintenance has always been viewed as a costly exercise. Today it is increasingly characterised by digital services such as telemetry solutions and data analytics, among others.
This is in line with the digital trend sweeping across the industry globally. Digital developments are progressing rapidly, and what many are calling the Fourth Industrial Revolution (4IR) is starting to take shape, with interconnected machines communicating and able to take decisions and integrate with their environment. Five areas or trends where these opportunities are particularly evident are big data analytics, cloud services and increased mobility, the Internet of Things (IoT) and connectivity; artificial intelligence and augmented reality; and automation and robotics.
Niel McCoy, business line manager Automation at Sandvik Mining and Rock Technology -Southern Africa, says the digital revolution from a preventative maintenance perspective is a big talking point globally, and Sandvik has been an industry leader for providing solutions in this regard.
"We have been at the forefront of preventative maintenance for many years in the industry. We have had performance maintenance contracts running in South Africa for more than 18 years, but this has always been a manual process. Traditionally we utilised a Computerised Maintenance Management System (CMMS) to do manual predictions and forecasts based on trends and experience of people on site," says McCoy.
He says that process has worked fairly well over the years but the downside is that it never gives you true insights into what's happening with the equipment. "We have since embarked on a data analytics journey, which is part of our digital offering. We have three legs to our digital strategy, namely connected equipment, autonomous equipment and features, and analytics and process optimisation," says McCoy.
The road to PDS compliance
The South African mining fraternity has covered significant ground in the past 12 months when it comes to PDS development, OEM/PDS supplier collaboration and general end user education on the technology and related legislative requirements. One of the frontrunners in the PDS sector, Booyco Electronics, shares some of the key developments thus far.
The Department of Mineral Resources (DMR) promulgated the use of proximity detection systems (PDSs), collision avoidance systems (CAS) and motion inhibitors on surface mines in February 2015. By now, every surface operation should have done its risk assessments on trackless mobile machinery (TMM) to determine their level of risk, and if significant, they should have installed suitable warning devices or proximity detection solutions. The deadline for collision avoidance systems was initially set for 2019, but industry has subsequently asked for this to be pushed to December 2020.
What does the regulation say as far as the adoption of these technologies is concerned? The PDS needs to warn the driver that there is another person or machine in its proximity which the mine itself must have identified as an unwanted event. Your risk assessment determines your adoption.
The regulation further says, if the driver of the vehicle does not respond to the warning, the vehicle needs to come to a slowdown and standstill (CAS). This is the part operations need to comply with, if your risk assessment and user requirement specification indicates the need.
Initially there was reluctance and resistance in the industry to adopt these technologies. However, Anton Lourens, MD of Booyco Electronics, one of the frontrunners in the South African PDS sector, says a lot of ground has been covered over the past 12 months, with the industry, supply chain and the legislator collaborating to find solutions.