ON THE COVER: At an event that was highly anticipated and attended by over 600 guests, Scania Southern Africa introduced the trucking industry to a completely new truck range. This is the result of more than a decade's research an investments – the biggest in Scania's history.
Scania's construction vehicles derive from its solid history of timeless engineering and extensive field testing in tough conditions. These smart solutions are making construction vehicles safe, more efficient, comfortable and profitable.
The construction industry is facing increasing demands for sustainable and cost-effective production. Enter Scania's New Generation trucks. With the powerful line-up, Scania's new generation trucks are ready for the toughest construction tasks and well prepared to meet the highly diverse transport needs of this sector. Simply put: Scania has the right products, the right services, and the right skills to help optimise the vehicle perfectly to the customers' operation. In a time when margins are tight, such optimal solutions are vital.
A flagship project
The 35 000 m2 premium-grade 144 Oxford Road office development in Rosebank, Johannesburg for Growthpoint Properties is Paragon Group's largest project at present.
Developed to capitalise on the demand for P-grade office space in the central Rosebank precinct, which currently exceeds even that of nearby Sandton and Melrose, the premium project has been refined over an eight-year period. The Tiber WBHO Joint Venture has been on-site as main contractor since November 2017. The project is aiming for a 5-Star Green Star Design Certification from the Green Building Council of South Africa (GBCSA).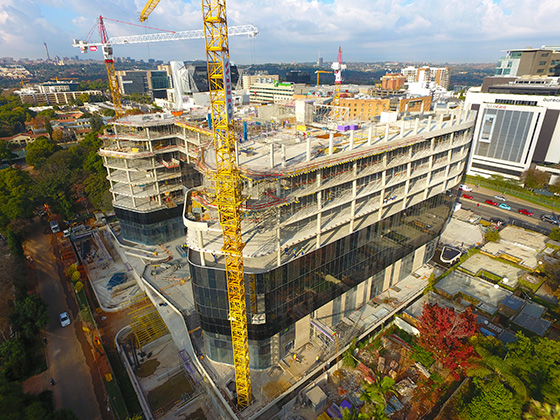 Machines for the emerging market
Manitou Group recently launched two new telehandlers specifically designed for developing markets in Asia, the Middle East, Russia and Africa. These machines were launched in Thailand, the poster child for development in an emerging market. Without compromising the core Manitou DNA of innovation and offering the best to customers, these new machines are adapted to the needs of emerging markets. As such they enable the lowest total cost of ownership (TCO) possible. Construction World attended this launch.