ON THE COVER: As construction development continues apace in Sandton, dubbed the financial district of South Africa, specialist geotechnical contractor Franki Africa has made a leading contribution to the provision of geotechnical solutions for decades of development within the Sandton Central Business District.
Sandton was officially established in July 1969, deriving its name from a combination of two of its suburbs, Sandown and Bryanston. At that time Sandton was primarily a residential area made up of a few suburbs comprising mainly smallholdings. The construction of Sandton City in the early 1970s was the first major development in the area and other landmark developments quickly followed as a result of the urban decay in downtown Johannesburg, historically the province's main business hub.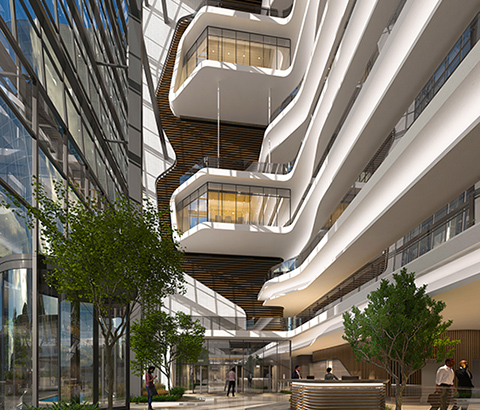 Secret to ongoing success
The secret to Paragon Group's ongoing success as a leading architecture and interior architecture practice in South Africa is its talented staff. The group has been behind some of the most iconic projects in the high-profile Rosebank and Sandton areas of Johannesburg, from Sasol Place to the new Discovery head office, the Alice Lane precinct, 144 Oxford Road, and Katherine Towers.
A recent innovation at Paragon Group to maximise its talent and skills, and to ensure that the design solutions supplied to clients are of the highest quality, has been to form teams of diverse skill sets and responsibilities. Known as pods, these teams are then allocated projects according to their specific strengths, and overseen by a senior Paragon Group staff member, who also acts as a mentor.
Managing KZN's biggest retail refurbishment
When extensive renovations were planned for Umhlanga's popular shopping centre, Gateway Theatre of Shopping, it was acknowledged that this would be a significant undertaking.
Undoubtedly it was to be one of the largest alterations, additions, and refurbishments of an active shopping centre in South Africa and certainly the largest ever in Kwa-Zulu Natal. The Client, Old Mutual Properties, turned to Profica to provide principal-agent, project management, and tenant coordination services on the project. No stranger to Old Mutual, Profica has worked with the company on numerous occasions, including an appointment on the major development of their iconic head office in the heart of Sandton.
Constructing South Africa's future, one BIM at a time
An architect, an engineer and construction worker walk into a room. They are going to discuss the construction of a building that will only be finalized by 2025, yet they have the ability to already see into a crystal ball to predict the future of what the building will look like and its core functionality