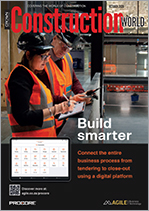 ON THE COVER: In early 2020, the world changed – and so did construction around the globe. As the industry continues to respond to the effects of the COVID-19 pandemic, it has adjusted to weekly and sometimes even daily changes. As the current situation develops, contractors are turning to digital technology to help them weather the storm and build an environment where risk is managed better, with speed, better efficiencies and with cheaper costs in the long term.
Procore Technologies, Inc., a leading provider of cloud-based construction software, has proved this and is entering the African market to replicate its success from the international markets alongside its partner Agile Business Technology.
In its fourth year, the MSCI South Africa Green Annual Property Index provides an independent and consistent comparative return on investment for green-certified and non-certified offices.
Green buildings a stronger investment
Released in conjunction with the Green Building Council South Africa (GBCSA) and sponsored by Growthpoint Properties, the MSCI South Africa Green Annual Property Index measures investment returns for a total of 293 prime and A grade offices (R54,5-bn capital value), and compares the returns of 105 green-certified buildings (R26,9-bn capital value) to the returns of the remaining 188 non-certified constituents.
For the year ended December 2019, the green-certified office sample delivered a total return of 7,6% versus the 5,1% of the non-certified sample.
"The findings of the MSCI Green Property Index for Offices strongly support Growthpoint's long-term office investment strategy," says Paul Kollenberg, Growthpoint's Head of Asset Management: Office. "We believe that the design and operation of buildings with a focus on occupant health and wellbeing will come into even sharper focus, and the index is proof that green buildings that prioritise health factors such as good ventilation and air quality are extremely well-positioned to retain and attract tenants now and in the future," he adds.
Key project in Ghana Pullman
The 365-key Pullman Accra Airport City Hotel & Serviced Apartments in Accra, Ghana is the largest project designed by Paragon Architects and under construction at present. The 40 000 m2 development is substantial in the context of many African cities and the largest hospitality facility of its kind in Ghana. "It is hugely ambitious, and it has been an incredible privilege to watch it develop and grow," comments Project Director Henning Rasmuss, a founding director of Johannesburg-based Paragon Group.
The 13-storey above-ground structure consists of a 219-key business hotel and 149 units of branded serviced apartments, with basement parking for 211 vehicles. The hotel includes an elaborate and generous banquet hall for conferencing and events. The lifestyle offering is centred on an open garden terrace with façades that integrate artworks by local and international artists, mainly Ghanaian. This aspect is still under development.