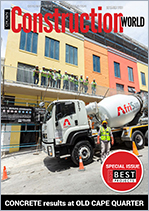 On the cover:The old-world charm of Cape Town's De Waterkant area is being captured in a new mixed-use development at the Old Cape Quarter, with main contractor GVK-Siya Zama Construction working closely with AfriSam on finding concrete solutions.
Kicking off in May 2019, and scheduled for completion in mid-2021, the project is adding four floors of luxury apartments onto the existing retail level and office level, with three basements. The 55 upmarket units include one-bedroom and two-bedroom apartments, as well as three‑bedroom penthouses.
Excellence and innovation triumph
At the end of a most challenging year, Construction World held its 19th annual Best Projects Awards in Johannesburg on 4 November. Despite challenges brought on, and exacerbated by, the national lockdown and the massive lack of government investment that existed pre-COVID, the awards had 38 entries. This is proof that even in times of difficulty, excellence and innovation triumph.
AfriSam was the main sponsor and has been sponsoring this event for 15 years. Den Braven was both a bronze sponsor and also sponsored the Architects category while Sika was an associate sponsor.
The event was held in the historic Thunder Walker on Gandhi Square in Johannesburg and limited to 100 guests to adhere to COVID-19 restrictions.
The Civil Engineering Contractors category was won by Concor for the Roggeveld Wind Farm. The project was also Highly Commended for the AfriSam Innovation Award for Sustainable Construction.
In the Building Contractors category the winning project was Concor for Oxford Parks Phase 2 while WBHO won two Highly Commended Awards for UP Engineering 4.0 and DSV Park Gauteng. Oxford Parks Phase 2 was also Highly Commended for the AfriSam Innovation Award for Sustainable Construction.
There were two Special Mentions in the Specialist Contractor or Supplier Category. These were for Kaalfontein Pedestrian Bridge (CoreCivils) and Botha Halte (Terraforce/Decorton Retaining Systems). The winner in this category was Sika South Africa for the Rehabilitation of Durban Heights Reservoir.
The Consulting Engineers category was won by JG Afrika for Coastal Park: Material's Recovery Site. The project was also the Winner of the AfriSam Innovation Award for Sustainable Construction.
The Architects category attracted the most entries and four awards were made. A Special Mention award was given to Tshwane Regional Mall (SVA International in association with Afro Plan Architects), while dhk Architects and Bentel Associates International both won Highly Commended Awards for respectively Capitec Bank Headquarters and Destiny|Radisson Hotel. The category was won by Boogertman + Partners/Tiber Construction for Sandton Gate Phase 01.