In wind farms all over South Africa's Eastern Cape and Western Cape provinces, CHRYSO Southern Africa is adding value to the precast concrete segments used to construct the 100 metre tall wind turbine towers.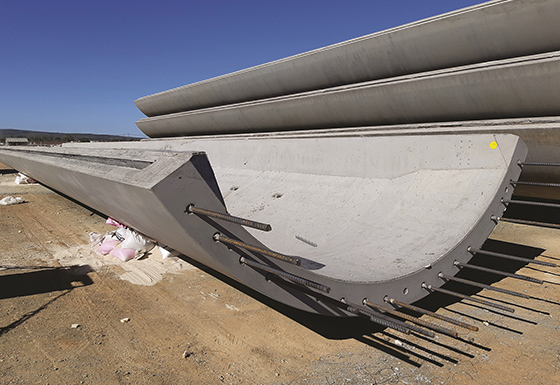 The average concrete turbine tower comprises 18 precast segments, each with a height of between 18 to 20 metres and a diameter of between 600 mm and two metres. In the manufacture of these precast elements, the production speed and segment uniformity are essential. This demands high early strengths to ensure fast erection, while giving the towers an ability to withstand demanding fatigue loads. Wind turbines must also be able to perform in some of the country's harshest working environments, making durability a key requirement for the concrete mixes used in precast units.
The CHRYSO® Fluid Premia range of plasticizers facilitates workability retention of between 30 and 45 minutes while achieving high early strengths. These early strengths allow for the fast erection of the towers owing to the quick turnaround time as the mould release and pre-stressing release can be done earlier. optimises early and late age strength development in concrete mixes.
The CHRYSO® Fluid Premia range maintains consistency in the manufacturing of reinforced concrete components, reducing the sensitivity of concrete to variations in water content.
Plastic shrinkage cracking and plastic settlement cracking can occasionally penetrate deep into a precast unit, causing significant cost in remedial measures and even replacement. Applying a curing compound from the CHRYSO® Cure Range to the precast segments reduces the incidence of shrinkage cracks and promotes better strength gain characteristics. Curing compounds also increase the impermeability of concrete, making it more durable.
Another important product gaining traction in this market is a.b.e.® duragrout. Developed especially for wind farm precast applications, this product which is proving popular is being used to level segment holders. The duragrout WF product is used for grouting and bedding of structural elements; it can be pumpable or gravity fed and has good cohesive properties without bleed or segregation. It is pre-blended and ready-to-use, requiring only clean water to be added.
In a related development, CHRYSO has partnered with Maturix to develop an innovative sensor solution with a digital cloud platform to monitor the maturity of concrete. It has been used worldwide on more than 350 in-situ and precast projects, and is being trialled on a wind farm project in South Africa. This cloud-based solution helps the construction industry to monitor concrete curing and hardening through hydration temperature measurements.