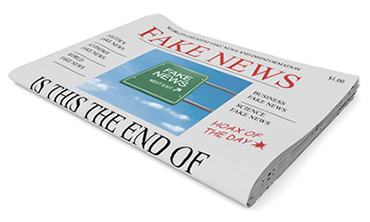 They have all been affected by fake news. Fake news became a big issue following Trump's election, with many political commentators voicing the opinion that the results at the polls reflected the influence fake news had gained. Fake news, to put it simply, is made up 'news' that is designed to look like the real thing. Not only are the news stories written quoting 'sources', but they are hosted on websites that are barely distinguishable from the originals they are replicating.
For example, Miss South Africa Ntandoyenkosi Kunene was reported as being caught with cocaine in her possession and arrested in the UK. The report first appeared on the fake website www.te1egraph.co.uk (the real website is www.telegraph.co.uk) under the headline 'Miss South Africa 2016 arrested at London Heathrow Airport with 2kg of Cocaine'. This was subsequently removed but appeared throughout the same day on other fake social media sites.
Fake news is nothing new, with publications like The Onion and Noseweek building their readerships on satirical and patently fabricated stories. However, the widespread use of the Internet as people's primary source of news has taken fake news to the next level.
The establishment is fighting back. Trump has repeatedly chosen to make criticism of the news media a central focus of his public remarks since taking office on 20 January, but has now turned his ire against purveyors of fake news. "I'm against the people that make up stories and make up sources. They shouldn't be allowed to use sources unless they use somebody's name. Let their name be out there," Trump said at a press conference. "Let there be no more sources."
In a few short months, we have gone from 'Pope Francis Shocks the World, Endorses Donald Trump' (he didn't) to Donald Trump shouting "fake news" at every opportunity. This is in itself a double-edged sword. Syrian president Bashar al-Assad used fake news to dismiss an Amnesty International report that his government hanged as many as 13 000 prisoners, saying "we're living in a fake news era, as you know".
Every day there are bloggers and freelancers writing for business news sites. Not all of them are journalists, and in some cases their articles can go viral, manipulating the direction of the market. While opinion has long had a role to play in stock and currency prices, it was largely the opinions of economists and those 'in the know' that impacted the markets. These days, fake news has as much influence as a Reserve Bank governor.
With Warren Beatty's incorrect announcement of the winner of Best Picture at the Oscars causing a flurry of fake news, Trump's many reported 'fiascos', and all of the other fake news stories that are spiralling through the online world, it's becoming harder and harder for people to differentiate the truth from the fictions that abound.
In the year of fake news, misinformed or unreliably sourced opinion is playing a role in economics, politics and daily life. It's only through respecting the work of the established media houses – who have standards, training and experience – that we can distil the truth from the fake news out there.
Image credit:
Copyright: cbies / 123RF Stock Photo