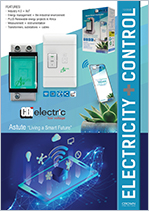 As 2020 draws to a close, Ian Jandrell reflects on what a peculiar year it has been, and some of the interesting shifts that occurred in the publishing world (alongside so many others that challenged us all). You can read Ian's comment upfront in this December issue of Electricity + Control.
In the feature on Industry 4.0 + IIoT, Michael Suer of Mitsubishi Electric Europe, Factory Automation, looks at how new digital technologies are being used in pharmaceutical production – providing for increased flexibility and efficiencies in smaller labs as well as multi-labs.
It is clear that the coronavirus pandemic has accelerated the global shift towards the use of clean, renewable energy sources in place of fossil fuels and re-emphasised the urgency to clean up industry, reduce waste and focus on the possibilities of the circular economy. In Energy management + the industrial environment, Daniel Goldstuck from the SOLA Group addresses the need for improved energy storage technologies to enable the broader use of renewable energy and energy services generally. Effective storage is one of the critical considerations in the delivery of stable, consistent renewable energy and a number of new technologies are emerging. Swedish company Azelio presents an update on its energy storage system which is designed to store energy from solar or wind as heat in recycled aluminium modules, and generates electricity and heat on demand.
There is a lot happening across Africa in the development of solar and wind energy resources, at small and bigger scale, as well as the development of hydropower resources and LNG – with Mozambique's mega LNG project in progress. For our special feature on Renewable energy projects in Africa, Electricity + Control spoke to Paul Nel at African engineering firm Zutari about the projects the company is involved in and new trends and technologies emerging. Nel highlights that providing access to electricity in communities that previously have not had it, changes everything. It is a spur to entrepreneurship, local economic development, education and opportunity. A number of companies have recognised the enormous potential that Africa presents for renewable energy development. We look at some of the projects, products and technologies in this space.
Relating to energy management and energy storage as well, in Measurement + instrumentation Comtest, representative for Fluke in South Africa, presents a Fluke guide to best practice in maintaining battery backup systems. This outlines the different tests that need to be done to assess lifespan, measure true available capacity of a battery, and ensure battery backup systems are kept in good working order.
In Transformers, substations + cables, South African company Trafo Power Solutions reports on its initial delivery of dry-type transformers to Mozambique's LNG project, with more specialised transformers on order, each designed to suit the application and load it will supply. Turning to cables, Gary Bradshaw from Durban-based Omniflex reports on the Conet system which can be used to set up local area networks for industrial plants, simply and cost-effectively.
As we close out 2020 and look to the opportunities that 2021 will bring, all of us at Electricity + Control would like to thank all our loyal readers, advertisers and colleagues for sharing the journey of the past year with us, a journey that has challenged probably all our fundamental assumptions about the world we live in – urging us to reconsider how we can build back better. As the years ahead unfold, we will see how we take forward what we have learned, in our own lives, in our families, among our colleagues and friends, and globally. We join Ian in wishing you all a restful year-end break, time to be with family and friends, and time for reflection, preparing to step forward to a fresh new year.