South Africa's new Carbon Tax Act came into effect from 1 June 2019. It marks another step in government's efforts to combat climate change, in line with the country's commitments to reduce its greenhouse gas (GHG) emissions by 34% by 2020 and 42% by 2025. The tax is expected initially to impact on the bottom line of companies that emit carbon dioxide and other GHGs. The sooner they become compliant in terms of the emissions allowances, the lower the financial burden will be.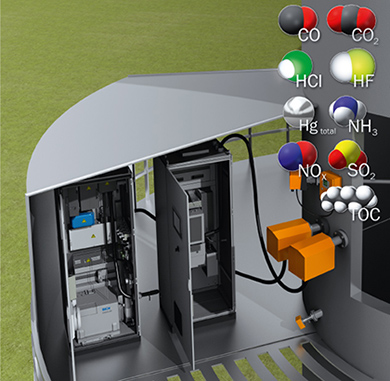 The carbon tax will be phased in over a period of time, increasing progressively. This is intended to allow for a smooth transition enabling industries to adopt cleaner and more efficient technologies and behaviours.
"The first phase will run from 1 June 2019 to December 2022," says Grant Joyce, Head of Sales Process Automation at SICK Automation. "Businesses that use this window to start evolving their business practices will be better equipped in the long run."
With a proven track record in the power, energy-from-waste and biomass sectors as well as process automation applications, SICK has tried-and-tested technologies in continuous emissions monitoring around the globe.
The National Treasury says the carbon tax will not have a negative effect on trade but will help protect South African companies against punitive trade actions for failing to reduce greenhouse gas emissions. The tax is intended to cut emissions in terms of South Africa's international commitments under the Paris Agreement and to send a signal to investors to shift towards low carbon options and so help the transition to a low carbon economy.
SICK Automation is a world leading supplier of continuous emissions monitoring systems (CEMS). It delivers the latest in measurement technology to meet the demands placed on businesses and industries in terms of reducing greenhouse gas emissions.
Innovative companies can reduce or prevent emissions by using SICK's CEMS technologies. These have been designed specifically to measure emissions at power plants, industrial facilities and on ships. CEMS solutions can be used to measure pollutants and reference quantities and to perform data processing on the results in accordance with the relevant national or international legislation. "Our extensive CEMS systems range will cover most applications and provide comprehensive solutions for industries looking to reduce their greenhouse gas emissions," says Joyce.
SICK Automation was founded on concern for the environment and the company has developed in a sustainable way to minimise negative environmental impacts as far as possible. SICK Automation is committed to helping its clients globally to reduce their carbon footprint. As a leader in continuous emissions monitoring systems and with over 70 years' experience, SICK can provide a solution for the most difficult of applications.
For more information visit SICK Automation Southern Africa: www.sick.com/za/en