Ever wondered how much functionality could fit into an imager the size of a smartphone? You'd be surprised. Electron­ics continue to shrink in size, making it possible to include increasing levels of functionality into smaller spaces. The Fluke PTi120 pocket-sized professional-grade thermal imager is available from Comtest, representative of Fluke in South Africa. The PTi120 is ideal for first-line trouble­shooting. It can be used to scan electrical equipment, pumps, motors, building systems, HVAC, and process control equipment quickly, for hot spots and cold spots that can indicate early signs of trouble. The imagers are small and affordable enough to make it practical for each technician to have one.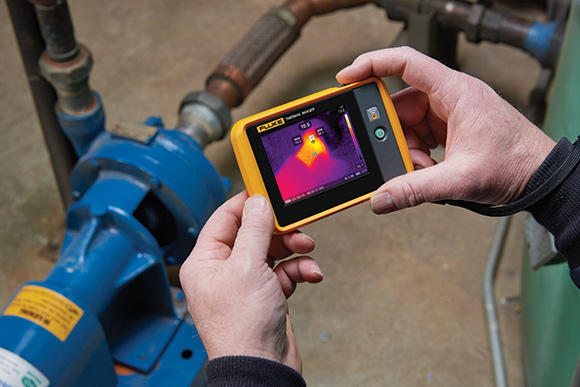 The pocket-sized Fluke PTi120 thermal imager is ideal for first-line troubleshooting on electrical equipment.
Key criteria to consider in evaluating pocket-sized thermal imagers should include:
Ruggedness
Asset tagging, wireless image upload
Resolution
IR Fusion
Sharing images with remote team members
Battery life
Memory
Ergonomics
The Fluke PTi120 professional-grade thermal imager delivers on all these criteria, making it an ideal choice for finding, assessing and solving mission-critical problems in plant, electrical equipment and other installations. With a 120 x 90 resolution, asset tagging (bar code/QR scanning), IR Fusion blending IR and visible light images, the Fluke PTi120 is a rugged, IP54 rated thermal imager.
For more information visit: www.comtest.co.za