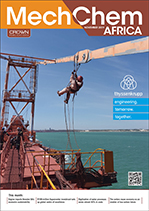 MechChem Africa November 2019 features thyssenkrupp Industrial Solutions (tkIS) with a story about its latest achievement of 1-million lost time injury-free hours across the whole of its Southern African operations
Featured articles include: Marthinusen & Coutts's rewind of a 36 MW compressor motor stator; Tim Carters failure column about atomic hydrogen; the new R100-million investment in the FLSmidth Supercenter in Delmas; next-generation mechanical vapour recompression from TLT-Turbo; Trailblazer Technology's KNeW (Potassium Nitrate ex Waste) process for profitably desalinating contaminated water; and for Innovative engineering, a piece from VTT about the carbon reuse economy.
On the cover: Vision Zero reinforces Tier 1 EPCM status for tkIS: thyssenkrupp Industrial Solutions South Africa is once again celebrating one million Lost Time Injury (LTI)-free hours. Quality, health and safety manager for tkIS SA, Christo de Beer talks to MechChem Africa about Vision Zero, the initiative that enables the company to repeatedly achieve safety milestones. Read more…
Peter's comment: Load shedding, downgrades, rugby and investment success: Peter Middleton looks at the recent economic rollercoaster and supports the Springbok's #StrongerTogether hashtag for growing out of our current predicament. Read more…
SAIChE IChemE: Mission Possible: net zero carbon emissions: Louis Mielke introduces the Energy Transition Commission's (ETC's) 'Mission Possible' initiative and summarises one of the associated sectoral reports: Reaching net-zero carbon emissions from plastics. Read more…
MAINTENANCE AND ASSET MANAGEMENT
M&C's rewind of 36 MW compressor motor stator a huge success: Marthinusen & Coutts's solution to an irregularity that occurred in the stator of a large 36 MW compressor motor deployed at Sasol's Secunda plant has yielded the best ever test results. Read more…
Engine imports threaten SA's economic sustainability: Metric Automotive Engineering's Andrew Yorke says South Africa needs to wake up to the socio-economic impact of importing new engines rather than remanufacturing existing components. Click to read in the online magazine...
Atomic hydrogen, embrittlement and attack: failure column, Failure specialist, Tim J Carter, talks about hydrogen and the importance of paying attention to the possible effects atomic hydrogen may have in embrittling steels and other materials. Read more…
MATERIALS HANDLING
R100-million Supercenter investment sets up global centre of excellence: Another R100 million investment in the FLSmidth Supercenter in Delmas, Mpumalanga, has set this South African facility up as the Group's global centre of excellence for the manufacture and supply of vibrating equipment. Read more…
Weba Chute Systems eliminate material degradation: Mark Baller explains how correct design of transfer points reduces product degradation and in some cases, even eliminates it. Click to read in the online magazine...
HEATING, COOLING, VENTILATION AND AIR CONDITIONING
Introducing next generation mechanical vapour recompression: TLT-Turbo GmbH has launched a new range of mechanical vapour recompression fans with ceramic hybrid bearings to provide a long operational lifespan. Read more…
Johnson Controls introduces plug-and-play controls system: Johnson Controls has introduced a plug-and-play control system that integrates heating, ventilation, air-conditioning and refrigeration (HVACR) equipment and controls. Click to read in the online magazine...
WATER AND WASTEWATER PROCESSING
The KNeW Process: a pro table way of recovering salinated wastewater: John Bewsey describes his KNeW (Potassium Nitrate ex Waste) process, which relies on scalable ion exchange CSTR batteries with some value adding regeneration and post regeneration twists. Read more…
Technologies of the circular economy: Anaerobic digestion: Veolia Water Technologies' Chris Braybrooke discusses the strategic importance of anaerobic digestion, a tried-and-tested technology family in the sewage and effluent treatment space. Read more…
Digitisation of water processes saves almost 40% in costs: Key plant processes within water and wastewater operations can now be digitised, generating 20-40% in cost savings, says Jacques Squire, water and wastewater segment leader at Schneider Electric South Africa. Click to read in the online magazine...
eThekwini bulk sewer project completed: Bosch Projects has recently completed a R32-million bulk sewer infrastructure project, south of Durban, for the eThekwini Water and Sanitation Division. Click to read in the online magazine...
Public, private sector must collaborate in face of Joburg water crisis: With falling dam levels because of low rainfall, and a planned shutdown of the Lesotho Highlands Water Project (LHWP), Hanine van Deventer of AECOM calls for everyone to work together to improve our state of water resilience. Click to read in the online magazine...
Improving quality of groundwater for community of Stinkwater: The community of Stinkwater has no access to piped water and relies solely on municipal trucks for the delivery of water, which is often insufficient. The CSIR's Wouter le Roux explains the health risks involved in the community's alternative. Click to read in the online magazine...
INNOVATIVE ENGINEERING
The carbon reuse economy as an enabler of low-carbon future: The VTT Technical Research Centre of Finland has produced a discussion paper entitled: 'The Carbon Reuse Economy: Transforming CO2 from a pollutant into a resource. MechChem Africa presents the introductory chapter. Read more…
REGULARS
Products and industry news. Click to read in the online magazine...
Backpage: Sasol Solar Challenge: innovation beyond boundaries. Click to read in the online magazine...