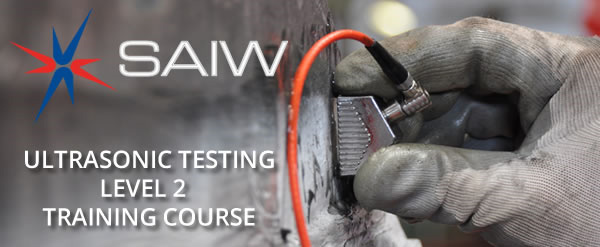 The SAIW is hosting a Ultrastonic Testing Level 2 training course from 17 August to 01 September 2020 followed by exams from the 02 September to the 04 September at the SAIW Offices in Crown Mines Johannesburg.
Ultrasonic testing (UT) method utilise mechanical vibration within the ultrasonic range (> 20kHz) to detect volumetric discontinuities within solid materials.
Compression and shear waves are used to investigate the internal nature of components while the interaction of waves with linear, planar or volumetric 'vacancies' are used to characterise any discontinuities detected.
The sound beam is the primary inspection medium and both the qualification (properties) and quantification (calibration) thereof is essential for the interpretation of signal response. If you enjoy playing pool and have a knack for geometry and trigonometry, then we invite you to attend an ultrasonic testing course. It will change the way that you look at any engineering material or weldment.

Click here to view more details on Ultrasonic Testing.

Costs:

Training & Initial Examination ( Non Members) – R34 665.00 (excluding VAT)
Training & Initial Examination (Members) – R33 030.00 (excluding VAT)

For any further information please contact Mark Digby via email mark.digby@saiw.co.za or call 011 298 2100.