African Fusion talks to Mwali Kawawa, Air Liquide's new Welding and Cutting manager and Rolf Schluep, Packaged Gas business manager for Air Liquide in South Africa about its new container-based welding store.
Air Liquide has always incorporated value added services into its offers and this was clearly evident with the launch of the ARCALTM New Generation range of welding gases. With the release of this offer, a foundation was set for customers to benefit from process optimisation, business efficiency and competitiveness," begins Schluep.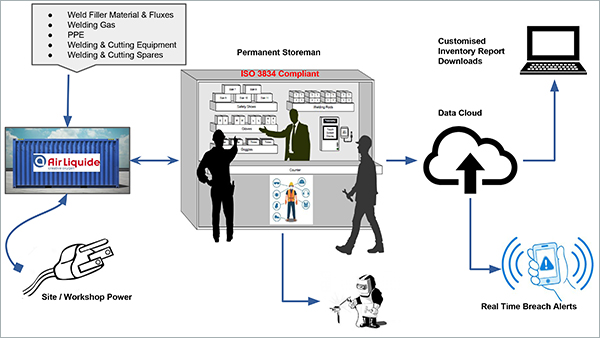 The ARCALTM New Generation range consists of four premium shielding gases for arc welding namely; ARCALTM Prime, a high purity argon gas for TIG and MIG welding of non-ferrous materials and back purging for stainless tube welding; ARCALTM Chrome, a mixture for MAG welding of stainless steel; ARCALTM Speed for thinner section carbon steel welding and ARCALTM Force for thicker joints requiring higher heat inputs. "We believe that at least 80% of all gas-shielded welding fabrication tasks can be successfully completed with the aid of one of these New Generation gases," says Schluep.
"Apart from this premium offer, we have developed a range of associated equipment, packaging and supply options to help our clients further enhance their production processes. These include, amongst others: value added gas audits for the welding processes used; skid-based supply options with telemetry to enable automatic reordering; our EXELTOPTM cylinder-integrated double stage regulator and flow control solution; as well as the welding technical support we have always offered to our customers.
"Our increasing focus on customer centricity, along with the integration of our hardgoods offering from Weld-Cut into Air Liquide South Africa, has led us to extend our onsite supply solution. This includes welding consumables such as electrodes, fluxes, wires, as well as the machines and all the accessories required to keep welding operations productive at a customer's site," Schluep tells African Fusion.
The new offering for both workshop and onsite operations is a container-based welding store that will provide easy access for welders involved in the fabrication and construction industries. "This offering involves the supply of Air Liquide's ARCAL welding gases as well as a full range of consumables, machines and hardgoods needed to complete welding construction, fabrication and repair," continues Kawawa. "In essence, the container will be deployed in parallel to our gas offer and stocked with everything needed within five metres of the welder to enable the welding to be completed efficiently, cost-effectively and timeously," he adds.
From a gases and consumables perspective, Kawawa explains that the management of stock is a very important issue. "In order to minimise defects and downtime, welding consumable stores need to comply with the requirements of the applicable codes of construction, client specifications and ISO 3834. These specify the correct management, control and issue of the consumables for welding using the correct WPS, for example – and while these issues are very well articulated in ISO 3834, they remain challenging on almost every steel construction workshop and site," he notes.
"We have come up with an ideal solution to meet all the site-based welding needs, while complying with construction codes and standards such as ISO 3834," says Kawawa. "We supply a 20-ft/6.1 m stock container with the stock management technologies required to store consumables under the necessary conditions and to issue stock in a controlled way. This avoids mistakes pertaining to recording and communicating the quantities and consumption levels," he explains.
"It is important when storing electrodes that moisture pickup is avoided so … read more.