Equipment rental company Rand-Air recently "passed the test" with flying colours, delivering a 24-hour turnaround hire to a tertiary education college in Gauteng.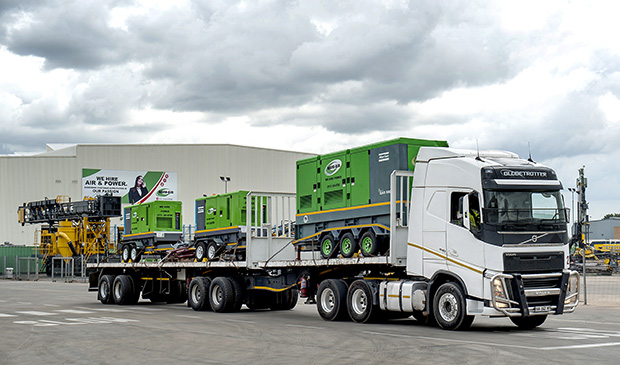 Since 1973, Rand-Air, part of the global Atlas Copco Group, has developed a reputation as a leader in supplying portable air, flow, lighting and power equipment to the local rental market. The company is driven by an ethos of people development and of exceeding expectations and delivering customer-centric service.
Rand-Air recently supplied generators to some of the college's campuses as part of a repeat hire contract agreement with this customer.
"This is a long-standing, loyal customer from back in 2008, when Rand-Air developed a relationship with a college which has several campuses located throughout the province. They have been a pleasure to service since 2014," says Rand-Air Gauteng sales consultant Benita Oosthuizen.
She says the college's campuses require standby power to be available during the bi-annual examinations which take place throughout the country.
"With students working on laptops, the last thing one needs is a power shortage," she says, adding that, until recently, Rand-Air supplied generators to each of the campuses, twice a year.
"This depended on the customer's requirements, and there have been occasions when they have hired equipment from us three times during the year," she says. Bi-annual rentals usually last approximately a month – June/July and November – to prevent power loss in the event of load-shedding, cable theft or other unforeseen occurrences.
Three generators were supplied for the most recent hire, namely two 300 kVA and one 500 kVA. Oosthuizen explains that some of the campuses near to each other merged during the recent national lockdown.
"The largest campus, home to our customer's head office, required the 500 kVA generator," she says. "We are supplying the 300 kVA generators to two others as well, this time around. The lockdown also caused the hire to be postponed to September, as everything was closed in June and July.
"The hire was finally placed on 4 September, a Friday, for delivery on that Saturday, 5 September, finishing on 25 September."
This 24-hour turn-around required logistical juggling which was met with the trademark smooth delivery and expectation-exceeding service for which Rand-Air is known.
"This tight deadline meant securing and delivering three generators, all with their associated cabling and CoCs (certificates of compliance), including dispatching an electrician to install them, at the various campuses. The aim was to ensure that the generators were installed and functioning in time for the examinations to commence on that Monday."
Oosthuizen says finding solutions is part of Rand-Air's everyday customer service. While the lockdown constrained travel and limited face-to-face customer interaction severely, it motivated her and her fellow sales consultants to ensure that the contact was maintained, that queries were resolved and that solutions were found.
"It was a challenge, as we usually visit customers' premises or the site and can assess their needs physically. During the lockdown, the Rand-Air sales team placed emphasis on telephonic contact, but not even that would suffice at times, as it was challenging to understand the exact situation on-site without actually being there.
"We therefore had to be innovative and be creative, requesting customers to send us photographs, voice notes, SMS messages and emails, and to use Microsoft Teams and WhatsApp to communicate their full requirement.
"However, it always stands us in good stead that, in true Rand-Air fashion, we know our customers' requirements even before they do, so we are typically well-equipped to handle queries and orders expeditiously."
In this case, Oosthuizen was able to meet the deadline through Rand-Air's hands-on approach and understanding of the customer's requirements.
"Our understanding of our customers' needs meant that Rand-Air was able to meet the delivery deadline of the generators to the various campuses, in time for their examinations to commence on the Monday.