The long-awaited signing of power offtake agreements with independent power producers earlier this year is likely to boost Raubex Infra's contribution in the renewable energy sector, according to MD Ean Steenkamp. Raubex Infra had previously been involved in renewable energy projects as part of the government's Renewable Energy Independent Power Producers Procurement Programme (REIPPPP).
Earthworks underway on the Kathu solar park.
"We are looking forward to our increased participation in this exciting sector, making our expertise available to photovoltaic energy projects, concentrated solar power projects and wind energy projects, among others," says Steenkamp.
Providing a range of infrastructure services from civils and electrical to telecommunications and rail, Raubex Infra specialises in executing turnkey projects. These are often in niche areas with demanding time constraints and technical complexities.
Among its recent work in solar power was a contract to drill and cast 28 000 concrete piles for solar field foundations in the Northern Cape. The contract required regular, reinforced and drive piles, and consumed 3 000 m³ of concrete footing. The company was also responsible for the electrical, instrumentation and control installation on the project. This included almost 15 000 m³ of civils works and trenching, as well as laying and terminating 211 000 m of fibre and ethernet cables. Medium voltage and low voltage cables were also laid and terminated.
Ean Steenkamp, managing director of Raubex Infra.
Great capabilities
"Our experience allows us to undertake projects of various sizes in South Africa and across border," says Steenkamp. A recent project completed in Lesotho was the turnkey installation of a 105 kW rooftop photovoltaic (PV) system. This included mechanical installation of substructures, modules, cabling, inverters and control systems through to final commissioning.
As an example of a smaller project, Steenkamp says Raubex Infra recently designed, supplied, installed and commissioned a 64 kW ground-mounted PV system in Boksburg, Gauteng.
"Our capabilities and flexibility enable us to meet market requirements, and over the last couple of years we have been extensively involved in civils work including streets, sidewalks, bulk water facilities and telecommunications installations," he says.
Raubex Infra's civils division is currently constructing the street network and water reticulation system for the second phase of the upmarket Woodlands Hills residential development in Bloemfontein. In addition to the civils services, the company will upgrade the provincial access road to facilitate direct access to the development's Bergendal Gate.
The project includes 21 000 m³ of mass earthworks, 22 000 m³ of layer works, and 6 300 m³ of trench excavation. Rocky conditions on surface required extensive blasting in the early months of the contract. Excavation is also necessary for slabs and drainage, and about 33 000 m³ of asphalt surfacing will be laid.
Recent civils work has also included applying specialised and innovative solutions on road contracts, according to Raubex Infra operations director of the company's civil and general infrastructure division, Cornel Strydom.
One of these was the repair of a major sinkhole on the road between Danielskuil and Kuruman in the Northern Cape. "The sinkhole had many chambers, some which had to be filled with rock and a berm constructed around the area to eliminate no water ingress," Strydom says. "The rock was compacted in columns using dynamic compaction so we could closely follow the geotechnical engineer's design. A rock bed or platform was created over the columns to form a 'bridge' between the cavities on which the layer works for the road could be placed."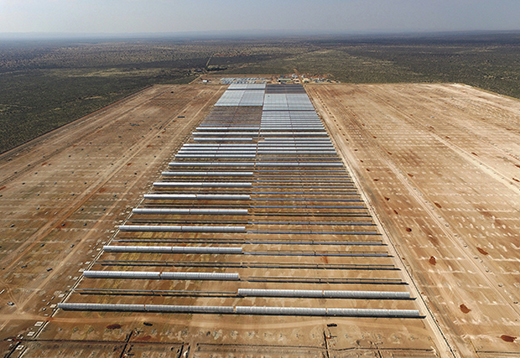 Kathu Solar Park being constructed.
More projects
Applying available technology innovatively, Raubex Infra's civils division recently stabilised and rehabilitated the gravel road between Douglas and Campbell using a dust suppressant down to a depth of 150 mm. Aside from ensuring a safer more driveable road surface, this will reduce future maintenance costs. At a private game reserve in Limpopo Province, both paved and concrete roads have been constructed and cables laid for internet connectivity.
Projects in the pipeline include a road rehabilitation and reseal contract between Vanzylsrus and Hotazel, a storm water pond at Lufhereng in Soweto, a water treatment project in Bloemfontein, a water pipeline project at Vanwyksvlei and a borehole contract at Carnarvon.
In the mining sector, the division conducted mass earthworks for a new run-of-mine tip structure for Tronox's Namakwa Sands heavy minerals mine at Brand-se-Baai on South Africa's Western Cape coast. This contract included the building of a 3 km trunk road to accommodate the new conveyor belt.
Laying optical fibre cables for local and national connectivity networks is a vital specialisation of Raubex Infra, both within South Africa and in African countries. Danie Marais, operations director of the company's telecommunications and special projects division, says work often takes them north of the border with extensive work carried out in Zambia, Zimbabwe, Uganda, Burkina Faso and the Democratic Republic of Congo.
"As the only company in South Africa with specialised equipment to conduct direct laying of ducting, we offer high levels of efficiency and economy for long distance cable installation," Marais says. "With our equipment and expertise our teams can cover up to nine km per day."
Completed contracts include the supply and installation of over 1,000 km of backbone network across Zambia as well as several smaller projects, including laying fibre cable in the Chingola-Solwezi region in north western Zambia.
Closer to home, the division is currently rolling out 'last-mile' fibre to homes in Bloemfontein's neighbourhood of Universitas and Waverley. Using dedicated and efficient trenching equipment, a narrow slot is created for the ducting minimising the impact on the roadway itself. A shallow gulley is then dug to channel the optical fibre from the road to the edge of the homeowners' property.
Raubex Infra also has extensive experience in permanent way (perway) construction in the rail sector including laying of ballast, sleepers and tracks. This division also has specialised teams doing overhead track equipment up to 50 kV capacity.