Buying a commercial vehicle can be a big investment, especially when times are tough. One way to soften the blow is to look at purchasing used vehicles.
However, before you buy a used truck, Scania South Africa advises that there are various issues to consider, and chief among them is taking a good hard look at both your potential purchase and its source, writes Munesu Shoko.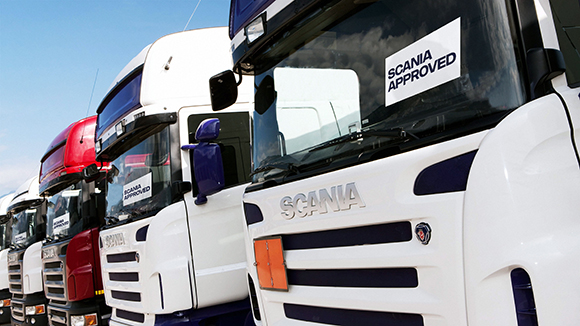 The decision to buy a used truck is sometimes referred to as "smart buying decision" because of the advantages and value for money it offers. The primary benefit of buying a pre-owned commercial vehicle is mostly the cost savings. It is for this reason that the used truck market is showing strong growth signs in South Africa this year. One of the noticeable trends in the commercial vehicle sector is the enormous demand for good quality used trucks.
Harold Donachie, GM – Used Vehicles at Scania South Africa, says normally the used market enjoys a good run at the expense of the new vehicle sector. It is a different scenario this year, with both new and used heavy duty truck markets enjoying a bull run despite the current economic conditions, especially given the technical recession in South Africa.
Scania South Africa has already sold in excess of a thousand used units this year. "From a stock levels point of view, this year we have been running at a third of our stock levels of last year. This means that we have been turning around our stock a lot quicker than last year. The quality of enquiries is also lot better than last year," says Donachie.
Key demand drivers
There is actually a shortage of quality used commercial vehicles in the market. So, what's driving demand? According to Donachie, because of the tough economic conditions, customers ought to run their existing fleets a bit longer than in the past. Chief among the factors why fleet owners are holding onto their existing assets is the cost of buying new ones in a tough business climate. This is compounded by the fact that the average monthly kilometres have decreased due to the nature of contracts. Therefore, trucks may be a bit older but they are being replaced with lower mileages.
"We also see that, due to the tough economic conditions, rates being quoted by transporters have gone down significantly. It's becoming extremely aggressive to secure business out there. That I believe is actually one of the biggest contributors to fleet owners looking for used trucks. Whether you are running a new or used truck, the rate is the same. If you can lower the cost of ownership of the truck, you may have an opportunity to earn a bit more money," says Donachie.
What is also creating demand or a lack of supply for used vehicles in South Africa is the preferential currency for export. Donachie reasons that the rand has lost its value at a rate that is very attractive for customers in the rest of Africa. "The rand/US$ exchange rate is very favourable for them. I believe some of the industry players also find it attractive for them to export their used vehicles into Africa with the opportunity to earn hard currency too good to turn down," he says.
Buying considerations
As enticing buying a used vehicle may be, to get maximum return on investment, there is need to take into account the benefits and cautions of going the used route. One can easily limit the downside of purchasing a pre-owned truck by buying from a reputable supplier, for example, an OEM like Scania.
One of the biggest issues is that commercial trucks are work trucks, which means it isn't always easy to find one in excellent condition. When debating the benefits and cautions of buying pre-owned commercial vehicles, the best weapon at your disposal is information. The OEM will always have all the necessary information one needs.
According to Donachie, before purchasing a used truck, customers need to gather every piece of information they can. One of the most important factors to consider is the service history of the truck because reliability matters. "Ask for a detailed history, including accidents, maintenance and repairs. If you are buying from a manufacturer like Scania, it is something they should be able to provide," says Donachie.
"The most important thing when buying a commercial vehicle is to understand that it is a mission critical asset and uptime is of critical importance. One needs to consider the reputation of the entity they are buying their used truck from, as well as the future backup of the vehicle," he adds.
The shortage of quality used vehicles presents an opportunity for value suppliers to take advantage of the economic conditions. However, Donachie believes that a large number of customers still prefer buying a used premium offering. They look at various other factors such as additional benefits of buying from the OEM directly. For example, Scania South Africa can offer service plans and warranties with its used trucks, which provides customers with the much needed peace of mind.
"One of Scania's competitive edges when it comes to used trucks is that we also offer in-house financing and insurance. The customer is afforded a one-stop shopping solution. We also offer our R&M Light Used, a service plan plus warranty. It is a standard engine driveline warranty which can also be expanded to cover certain bolt-on components," says Donachie.
A unique feature of Scania's used warranty is that it can be extended to beyond a million kilometres. Bear in mind that most of the external warranties offered on used vehicles are up to 800 000 km. The benefit to the customer is that Scania's warranty is a factory-backed programme.
This is complemented by the fact that the majority of dealerships across the country are Scania-owned. The attraction to the customer is that with their R&M Light Used contract, they can walk into any dealership throughout the country. There are also a few service outlets, but these still operate under the Scania banner, so the customer has a wide support footprint at their disposal.
More considerations
One of the most common considerations when buying a used truck is that one should know the mileage and how it was accumulated; freeway miles are less damaging than constant stop-and-go and arduous applications such as construction.
One of the current trends is that trucks are being traded in at an older age than before, but notably with low mileages due to reasons Donachie has already explained. In his experience, generally the replacement cycles used to be 4-5 years. However, today it's more to do with the best potential replacement cycle for an individual customer. "When we sell a new truck, our sales executives factor in each customer's business and type of application to determine the optimum time to replace the vehicle," he says.
In most instances, disposal cycles differ with industries. "If you are driving a refuse collection truck, for example, it will accumulate between 2 000 and 3 000 km a month because, by its very nature, it's a low mileage application. That truck will not be exchanged prior to five years. However, if one is running a flatdeck or tautliner between Cape Town and Johannesburg, the truck will probably clock between 15 000 and 16 000 km a month and would need to be exchanged after every three years," explains Donachie.
When it comes to selling of used trucks, Donachie cautions that there are a number of factors to be considered when looking to trade in a vehicle, and chief among them is that the mileage shouldn't get too high because it affects the resale value. Likewise, the age of the truck shouldn't get too high because it won't be financeable.
"Financeable age of a used truck is normally five years with most of the reputable lenders. It becomes pretty difficult to obtain funding through banks for a truck that is more than five years," concludes Donachie.