Defying the laws of gravity is all in a day's work for Babcock's plant hire business as its heavy lift mobile cranes continue turning challenges into triumphs. Most recently, Babcock put a 600-t Liebherr LG 1550 lattice boom crane to the test in a project involving the precise placement of 10 gantries within a live and confined working space.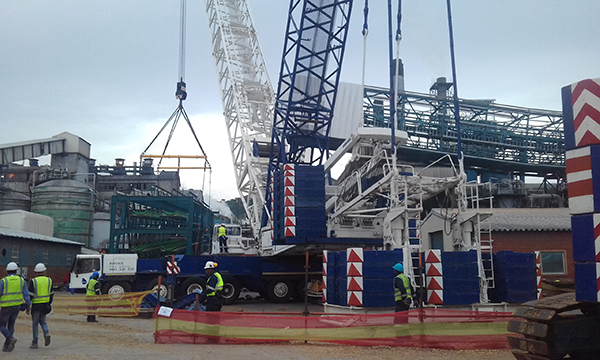 Michael Hawkins, heavy lift manager at Babcock, says despite external setbacks, the three-month project went very well with Babcock achieving what many thought impossible with a mobile crane. "Our competitors believed the project required a high capacity crawler crane; however, by building the mobile crane and boom on the ground we were able to drive it into position, lifting the boom along the way and stabilising it with a 100-t crawler crane," says Hawkins.
A total of 10 gantries, some exceeding 70 t, were then lifted 35 m into the air over a live working plant to be strategically placed between A-frames for the carrying of conveyor belts for a new wood chipping plant in Umkomaas, south of Durban.
Hawkins says that 28 lowbed trucks were used to transport the Liebherr LG 1550 mobile crane to site where it was built. "The challenge then came in lifting the gantries above plant buildings and underneath existing conveyor belts before slewing them in to final position," he says, adding that individual gantries took approximately three and a half hours to lift and place, with the build of the crane taking 2-3 days depending on access.
The Liebherr LG 1550 lattice boom crane is the largest mobile crane in Babcock's plant fleet. It has a maximum lifting capacity of 600 t at a 4,5 m radius and lattice boom extending to 161 m. The eight-axle machine with slewing platform also features outriggers that can be completely folded into the vehicle width, increasing manoeuvrability in confined spaces. In addition, the 24 wheels provide the load bearing capacity necessary for the crane to move on-site with the parts of its equipment and ballast. The boom and jib system enable hook heights of over 100 m to be reached.
With a current equipment fleet of 161 cranes, ranging from 8 t to 600 t, and a combined inventory of more than 40 000 items, Babcock claims to be the largest empowered mobile lifting equipment and plant service provider in southern Africa. Other mobile transport options offered by Babcock include tractors and trailers, trucks and lowbeds, and abnormal transport for the logistics and transport for heavy haulage. Babcock's combined fleet is utilised on a wide range of customer projects, from substantial infrastructure development and mining, to petrochemical plants, wind farms and marine projects.
Aside from its extensive inventory of heavy lifting equipment, Babcock's team of certified riggers and qualified red seal riggers are trained to provide a wide spectrum of advice and services ranging from machine moving to rigging and placing of equipment and lifting assessments. Babcock operates to a safety-first philosophy and boasts an outstanding safety record while working within and exceeding OHSAS and ISO requirements. Safety is further supported by well-trained drivers and operators as Babcock continually trains and upskills employees to ensure safe and superior service to customers.