At the end of 2019, Babcock Africa reached a momentous safety milestone when it recorded a zero disabling injury incident rate (DIIR) across all its business units. This is a first in Babcock's 125-year history and equates to just under six million hours worked over the last 12 months without a lost time injury.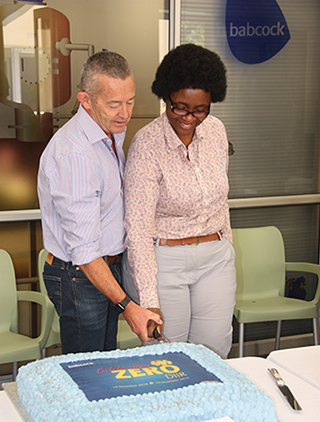 Making Babcock's achievement of zero DIIR even more remarkable is the fact that the company carries out the majority of its projects and services on-site and in high-risk environments, with a work force of up to 3 800 core and limited duration contracted employees at any given time.
Babcock International Group Chief Executive Officer for Africa, Roger O'Callaghan, says the milestone is "a massive achievement made possible by dedicated Babcock employees".
Underpinning the business's remarkable safety record is a holistic approach that incorporates every employee and brings safety not only into the working environment, but also into everyday life. Koos Cornelissen, Group Risk Manager at Babcock, elaborates on how the business has built up a solid health and safety framework over the years, based on the principles of sincerity, empathy, empowerment and personal aspiration.
"Babcock was a forerunner in formalising a holistic health and safety system in our industry, with the launch of the 'Home Safe Every Day' campaign from around 2005. This programme instilled safety as a personal responsibility and an individual choice, encouraging our employees to extend their safety awareness beyond the confines of the work environment," he says. Babcock has invested substantially in this regard, along with the provision of suitable resources and training, and has placed priority on the proactive management of 'at-risk' human behaviour and addressing behavioural and cultural differences.
Cornelissen explains that to overcome barriers to instilling a safety ethos, such as low levels of literacy, various non-English first languages spoken, and differing cultures, Babcock created a framework of safety that is visible and easily understood.
Other factors that have contributed to Babcock's long-term commitment to sustainable safety include:
The Africa Board, Executive and Management teams' support and commitment to health and safety
The 'Babcock Safety Lens' programme consisting of 11 safety promises that outlines the expectations and behaviours of the health and safety culture to be visible at Babcock sites throughout the world
'Safe Behaviour – Yenza Okufanele' – a human behaviour risk management programme developed by a psychologist and behavioural specialist. This programme is aligned to the latest international research on achieving human behaviour change as well as the Babcock Safety Lens programme. -
A comprehensive 'Be Well' programme offering support to employees and their families for work-related and personal wellbeing issues through access to psychologists, social workers, dieticians, biokineticists, financial coaches, debt counsellors, and legal advisors
Centralised professional emergency medical response service for all Babcock Africa sites ensuring that employees receive the best possible medical response and advanced life support in case of an emergency
A comprehensive 'substance abuse management' programme.
"There is in-depth thinking behind our safety philosophy and how best to implement it. It's not just a matter of ticking the boxes," says Cornelissen. He believes that this sincere approach personalises Babcock's safety agenda and extends real empathy and empowerment to the business's employees.
"We are serious about safety and are committed to identifying risks, hazards and dangerous practices through observation, and encourage the reporting of near-misses or unsafe acts," comments Cornelissen.
While all of Babcock Africa's business units have reached zero DIIR, Babcock's Ntuthuko Engineering business stands out for its exceptional record of over 27 months without a serious injury. Other business units that have reached outstanding DIIR records include Babcock's Transport Solutions with no lost time injury for over six years, Plant Services for over 19 months and Industrial recording no serious injury since September 2018.
Archie Bethel, Chief Executive Officer for the Babcock International Group, describes Babcock Africa's achievement as simply exceptional, crediting the entire Babcock Africa team for the outstanding safety record success. "Babcock's priority is to ensure the continuation of a strong, successful and sustainable business that will create long-term value for shareholders and long-term sustainability for stakeholders. This can only be achieved by behaving in a safe and responsible way and upholding the highest standards of business ethics."
Babcock Africa is part of a leading UK engineering support services business and has a proven track record for delivering vital services and managing complex assets on behalf of its customers in the construction, mining, transport, energy and chemical sectors.