Ocon Brick, part of the IS Group of companies, won their eighth consecutive PMR Golden Arrow Award within the Suppliers of Bricks and Formwork/Scaffolding category at a ceremony hosted by PMR.africa in Johannesburg in May 2016.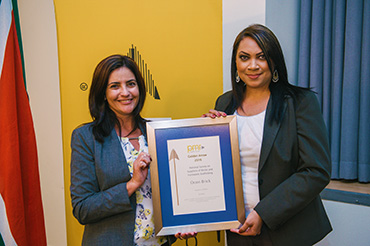 Regional sales manager, Mariana Lamont with Guinevere Thomas, group marketing and communications manager.
Mariana Lamont, regional sales manager for Ocon Brick said "It is quite an achievement to have won our eighth consecutive PMR Golden Arrow Award. We are incredibly proud of this recognition from PMR.africa. The entire team at Ocon Brick have put in an immense amount of effort and take great pride in ensuring that our customer's requirements are met in the most professional and reliable manner possible".
"Our manufacturing processes are regularly reviewed to ensure we offer a superior product at all times and, this, coupled with our renowned service delivery reliability has led us to the winner's podium again. It is a prestigious award reflecting our professionalism, and we are delighted to have received this honour from our peers in this industry" concluded Lamont.
The awards, which are hosted by PMR.africa, who are industry research specialists, aim to enhance and recognise excellence while setting bench marks in the different industries. Research is undertaken via a sample of industry retailers and construction company representatives into the performance of brick manufacturers and suppliers of formwork and scaffolding.
Ocon Brick can manufacturer over a million bricks per day at their Meyerton plant in Gauteng, enabling them to meet customer requirements on schedule. The company's clay stock bricks are recognised for their consistency in longevity, strength, durability and quality. The company has supplied bricks to a majority of the major projects in Gauteng since 1981.
Technicrete ISG and Rocla are other subsidiaries under the IS Group.