Muhammed Hassen from Greenside High School in Johannesburg has big dreams of improving the safety standards in South African mines, after scooping a number of awards at the Eskom Expo for Young Scientists.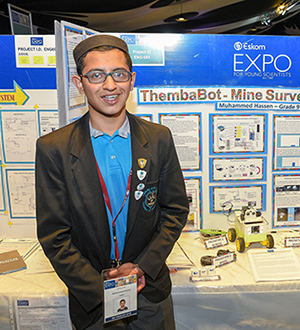 Hassen, currently in Grade 11, won a gold medal at the virtual awards ceremony held in December 2020. His prizes included a partial scholarship from Wits University's Faculty of Engineering and Built Environment, a special award for innovation in information technology from the South African Institution of Civil Engineering's IT Division, a laptop from Babcock, and the Meiring Naudé Award for the most inspiring project.
Eskom General Manager of Risk and Sustainability, Andrew Etzinger, said: "Eskom is very proud to be the main sponsor of the Eskom Expo for Young Scientists over many years. The Eskom Expo is one of the flagship CSI initiatives supported by Eskom. It is at times like these that we see the value of our investment in STEMI education, unearthing such talented innovators in our country.
"During lockdown, many activities came to a halt, but the Eskom Expo continued to deliver a valuable service to the education system to ensure that we sustain the momentum of developing much needed scientists and engineers for our country. Even through the lockdown, it's reassuring to see inventions like that from Muhammed Hassen, which, with the right support, could be a game changer in mine safety."
Hassen's research project, 'ThembaBot 5 – Mine Surveying Robot', includes an unassuming, ergonomic and cost-effective robot to assist mine surveyors in conducting their tests to see whether mines are safe for miners. Hassen said the addition of a GPS tracking device is planned as well as the design of a visual interface to monitor all systems on a single screen, allowing for more effective risk mitigation.
"I have always been interested in technology and how it can make life easier. When I first started with robotics, South Africa had one of the biggest mining accidents. I realised that robotics could be used in mining to make it safer. So I began researching safety in mines and this brought about some of the first ThembaBot mine surveying ideas," he said.
"I would really like to go into engineering. There's so much engineers can offer to solve important problems like climate change, food security and space exploration. With recent developments in technology, engineers can partner with other fields to create unique and sustainable solutions for a better future. If inspiration doesn't knock, you just need to build a door," Hassen said.
Hassen has also been selected to attend a virtual innovation and entrepreneurship boot camp by the Technology Innovation Agency (TIA) in 2021 with 18 other young scientists. The Grassroots Innovation Programme aims to assist young scientists with taking their project or product to market.
Eskom Expo Executive Director, Parthy Chetty, said: "Even though the entire education system suffered during lockdown in 2020, Eskom Expo activities continued to develop new online content and deliver online workshops. Our firm belief is that no child should be left behind, even in the face of adversity such as the pandemic. We see the results of this in outstanding innovations from young scientists like Hassen."
Another winner recognised through Eskom Expo is teenage scientist Thabo Maliea from Botshabelo in the Free State, who dreams of being an astrophysicist. Thabo, aged 18, was an award winner at the 2021 Taiwan International Science Fair (TISF), in which he competed virtually via Eskom Expo.
He captivated the judges with his ingenuity, depth of knowledge and mastery of enquiry methodology displayed in his scientific research project, 'Sunprints in the sky'. The project investigates the track the sun makes in comparison with three specific stars over a period of five months, using a homemade observational apparatus instead of expensive equipment.
Thabo, who was accepted to study astrophysics at Wits University and is on the University of Cape Town's waiting list, was awarded third place in the astrophysics category, winning a cash prize as well as a medal and a certificate.
"I didn't expect to win a prize at the TISF because of how tough it is to compete there and the high international standards. Overall, I'm very happy and excited," said Maliea.
"I have always wanted to do an astronomy project and participate in the Eskom Expo for Young Scientists, but I had only one set back: I couldn't afford to buy myself a useful observational apparatus. So I decided to use a homemade one, because it is more affordable and it was my best alternative," added Maliea.
Etzinger said: "Eskom is extremely proud of these learners for their fantastic achievements. Thabo's fascination with the sun has gained him global recognition. Eskom's investment in the national Expo for Young Scientists is part of its broader strategy of skills development for the country. It is logical to invest in STEM at school-level, in order to support the learners at this point in their education."
For more information visit: www.exposcience.co.za