On 18 October Siemens hosted a Mining Technology Day in Sandton. The keynote address was given by Sietse van der Woude, Head of Modernisation and Safety, Chamber of Mines.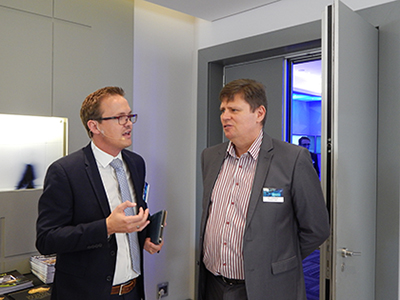 Van der Woude started his address by saying that mining is responsible for 457 698 direct jobs; makes up 40% of South Africa's exports and contributes R304 billion to the GDP making it the backbone of the South African economy. However, the current state of deep-level mining, with its associated increased costs and reduced productivity, is unsustainable. If the mining industry does nothing and continues on its current path using current methods this could lead to 200 000 job losses in the next ten years. Alternatively, modernising the South African mining environment could unlock the equivalent potential of eleven large gold mines and eight platinum mines.
Van der Woude emphasised that modernisation needs to be people-centric in South African mining because 15 million of the country's population are unemployed. People-centric modernisation must be developed with and for the people understanding that due to the poor quality of education in South Africa people need to be upskilled and technology 'de-skilled' which means making equipment user friendly.
He explained that large scale youth unemployment is a real challenge but South Africa is fortunate to have an abundance of young people who are intrinsically more 'tech-savvy' and need to be incorporated to help solve the problems facing the mining industry.
Van der Woude showed that already much is being done through a coalition of willing partners called 'Mining Precinct'. A donation of R150 M from the DST (Department of Science and Technology) is going towards R&D. The Chamber of Mines has donated R35 M; the DTI (Department of Trade and Industry) has donated R8 M; and Mining Companies – R1 billion. Unions believe modernisation is inevitable and want to be involved in the process.
He pointed out that the extraction of gold and that of platinum have been picked to be the first mining processes to be modernised as this type of mining faces the most difficult challenges in the world but also offers marvellous opportunities. Through modernisation the longevity of the mines will be increased, people will be removed from dangerous zones and finally there will be no more drill and blast but continuous operation 24/7. This solution needs to be developed in South Africa for South African mines. He emphasised that there is no 'off the shelf' solution for South African conditions.
Roland Ehrl, Executive Vice President Minerals, Siemens, echoed this sentiment when he said of the Siemens solution for mines: "Digitalisation is not a 'one size fits all' solution but needs to be developed with the customer."
Enquiries: Keshin Govender. Tel. +27 (0) 11 652 2000 or email Keshin.govender@siemens.com
www.twitter.com/siemens_press