Annually, heating and cooling systems in residential and commercial buildings are depended upon to keep interior temperatures continuously comfortable. However, many people do not realise how the wear and tear on a heating and cooling system can mount up over time.
Ideally, a heating, ventilation and air conditioning (HVAC) system requires a maintenance inspection twice a year, once in the winter before using the heat pump heating system, and once in the summer before starting the cooling cycle of the air conditioner. These inspections help ensure that the installed system is functioning at its most efficient and providing optimum comfort.
A maintenance inspection will also extend the life of the equipment, increase cost-effectiveness and ensure safe heating and cooling. It should be remembered, however, that air filters will still need to be cleaned frequently.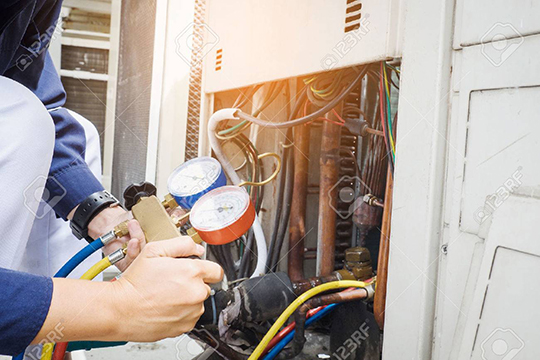 Scheduling annual furnace or air conditioning system inspections can save on energy costs.
HVAC systems are a big investment. This fact often comes to light when an entire air conditioning system must be replaced due to poor maintenance. Frequent system inspections and maintenance checks help keep a system effective for a longer period. Sadly, however, most systems are only attended to when they have broken down or likely to be a safety and health hazard.
Safe HVAC installations
While regular inspections are important, the actual installation of an HVAC system is even more important. Maintaining a poorly installed system can prove pointless and possibly harmful. It is vital to use only an installer registered with South African Qualification and Certification Committee-Gas (SAQCC-Gas) when installing HVAC equipment in a property, in order to avoid accidents such as leaking refrigerant gas into the atmosphere, which impacts on ozone depletion and contributes to global warming – both reasons for the drafting of the Montreal Protocol and amendments.
SARACCA is the association of South African Refrigeration and Air Conditioning Contractors whose members have agreed to a set of governing standards whilst freely competing against each other. The Pressure Equipment Regulations (PER) were put in place to ensure that all gas installations meet safety standards. These regulations set out the requirements for the design, manufacture, operation, repair, modification, inspection and testing of pressure for all equipment used in the HVAC Industry.
In terms of the Occupational Health and Safety Act, 1993, (PER) also requires all who intend to work on gas equipment to undergo specific training and to be registered with the SAQCC-Gas. For safe HVAC installations, modifications, maintenance and repairs, only registered SAQCC-Gas practitioners should be used and a Certificate of Conformity received.
Legal documentation
A Certificate of Conformity (COC) for Gas installations is a legal document, which must be obtained whenever a refrigeration or air conditioning system under pressure is installed, modified or repaired. This certificate should be retained for possible future requirement. Only Registered Practitioners may issue a COC. When the refrigeration system size causes it to be in Category II or higher, as defined by SANS 347, an Approved Inspection Authority (AIA) is required to examine and countersign the certificate of conformity issued by the gas practitioner.
The common aim of SARACCA members is to continually strive to improve the image and standards of the industry and the association provides a forum for this purpose.
In July 2009, the Department of Labour published the 'Pressure Equipment Regulations' as part of the Occupational Health and Safety Act Number 85 of 1993. SAQCC-Gas has been accredited by the Department of Labour to register 'Authorised Persons'.
SARACCA, as a member of that committee, is tasked with registering refrigeration and air conditioning practitioners.