Steenkampskraal Holdings (SHL), the world's highest grade rare earth mine, is in preparation for a listing on London's AIM and the JSE and has made three key appointments to proceed with the development of the Steenkampskraal rare earth mine situated in the Western Cape of South Africa.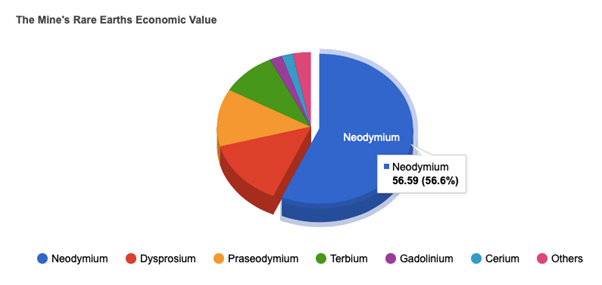 "SHL has all the regulatory approvals required to commence mining and to produce monazite concentrate. Management is also discussing and negotiating offtake agreements with numerous prospective customers. SHL plans to raise equity funding through a pre-IPO and IPO on the London AIM market and a secondary listing on the Johannesburg Stock Exchange," explained Trevor Blench, SHL chairman.
Steenkampskraal, as the highest-grade rare earth mine in the world, has an indicated NI 43-101 Mineral Resource Estimate average grade of 14.4% TREO (total rare earth oxides). The resource contains all the magnetic rare earths used to make motors for electric vehicles and wind turbines, these include neodymium, praseodymium, dysprosium and terbium.
The mines rare earths by economic value are neodymium 56.59%, dysprosium 14.19%, praseodymium 12.43%, terbium 9.62%, gadolinium 2.12%,
Steenkampskraal also contains thorium and uranium. SMM is registered with the South African National Nuclear Regulator (NNR), holds Certificate of Registration Number 23 (COR-23) and is fully compliant with the NNR regulations. This COR authorises SMM to use, possess, produce, store and process naturally occurring radioactive material (NORM) at and convey, cause to be conveyed and dispose of NORM from the site. Most rare earth minerals contain thorium, and SKK is one of the few rare earth mines in the world that has a nuclear licence. There are several projects to develop thorium as a nuclear fuel, and thorium could eventually provide additional income for the company.
The combined grade of these four magnetic rare earths at Steenkampskraal is 3.49%, which is higher than the total rare earth grades in most other rare earth projects, the company said.
Graham Soden has been appointed a director and Steenkampskraal mine manager. Soden is a mining engineer with a number of years' experience as project manager and as a mine manager.
"Soden has prepared bankable feasibility studies, mining work programmes (MWPs) and environmental management programmes as well as completing the revision of the Mine Work Programme (MWP) for the Steenkampskraal mine submitted to the Department of Mineral Resources and Energy (DMRE) in April 2022," Blench said.
Timothy Crombie has been appointed a Steenkampskraal director and project manager. He is a chemical engineer and has worked as a physical sciences teacher, a renewable energy project developer and a data scientist. He was involved in the preparation of tenders for South Africa's REI4P programme and has experience in the technical, legal, environmental, financial, and socio-economic aspects of utility-scale projects. Mr Crombie is also a shareholder in SHL through his investment company, Monoceros Mineral Resources (MMR).
Megan Korber has been appointed SHL legal advisor. Korber has a BA LLB and is an Admitted Attorney of the High Court of South Africa. Her experience includes recruitment, employment contracts, commercial agreements, due diligence reviews and investment regulations.