Botswana's long-awaited Khoemacau copper/silver project is now ready to enter the mine development phase, with early works due to start in October this year and the full project release scheduled for Q1 2019 with the commencement of the boxcuts.
This was said at the recent Botswana Resource Sector Conference in Gaborone by Johannes Tsimako, Country Manager, Khoemacau Copper Mining, who disclosed that the mine – which will cost US$391 million to develop – would produce its first concentrate by Q1 2021.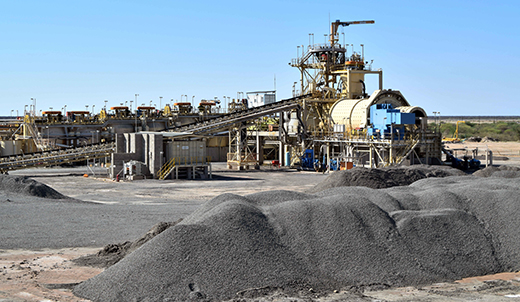 The Boseto concentrator, which will be upgraded to 3,6 Mt/a capacity (photo: Arthur Tassell).
Khoemacau Copper Mining is the Botswanan subsidiary of US-based Cupric Canyon Capital. Cupric acquired the Khoemacau property in 2013. In 2015 it purchased the neighbouring Boseto property, including a new 3 Mt/a concentrator which was commissioned in 2012 by Australia's Discovery Metals, and a Tailings Storage Facility (TSF). Discovery Metals mothballed the Boseto mine in late 2014.
Tsimako said the first phase of development – the 'Starter Project' – would seen the development of a 3,6 Mt/a underground mine at Khoemacau's Zone 5 deposit with the ore being trucked over a distance of 35 km (using 100-tonne trucks) to the Boseto concentrator for treatment. The concentrator will be upgraded to a capacity of 3,6 Mt/a to enable it to process all the ore produced by the Starter Project.
The new mine is expected to produce 155 kt/a of 42 % clean, dry copper (cu) concentrate, with 375 g/t silver (Ag) – which translates to 60 kt/a of copper metal and 2 Moz/a silver. Expected Cu and Ag recoveries are 87,8 % and plus 86 % respectively.
Tsimako said the new mine – which would consist of three separate boxcuts and spiral decline systems, each able to produce 1,2 Mt/a – would use the sub-level open-stoping method with a planned conversion to backfill in the future.
Resources available to the project (including Zone 5 North which was discovered in 2016 and the Zeta NE deposit) total 185 Mt at 2 % Cu and 27 g/t Ag. Cupric, however, has extensive tenements in the Kalahari Copperbelt area extending over 4 000 km2 and total resources are estimated at 502 Mt at 1 % Cu and 17 g/t Ag.
According to Tsimako, the Starter Project is likely to be followed by further phases of development, with the first expansion being from 60 kt/a of copper to 100 kt/a, which would require a new plant to be built at Zone 5. Ultimately, he said, a yearly production of 180 kt/a plus of copper was possible based on current resources over the entire property area, including the Banana Zone located roughly 60 km south-west of Zone 5.