Shaft 1 of the Platreef project near Mokopane has reached the top of the high-grade 'Flatreef' deposit (T1 mineralised zone) at a depth of 780,2 m below surface. This is the first time that the Platreef – a strongly mineralised, polymetallic belt that extends northward from the town of Mokopane for more than 30 km – has been intercepted by underground mining activity.
The Platreef project is located on the Northern Limb of the Bushveld Complex adjacent to Anglo Platinum's Mogalakwena mine. It is being developed by TSX-listed Ivanhoe Mines which indirectly owns 64 % of the project through its subsidiary, Ivanplats, and is directing all mine development work.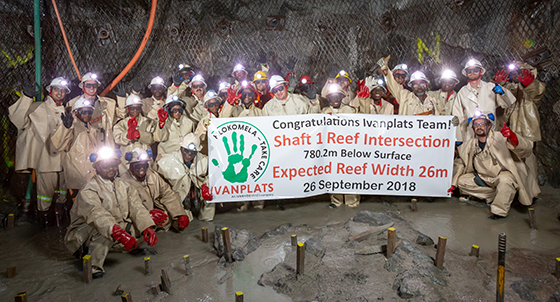 Members of the Platreef project team and its South African sinking contractor, Aveng Mining, in Shaft 1 at the intersection of the Flatreef deposit.
The Flatreef deposit, with a strike length of 6 km, lies within a flat to gently dipping portion of the Platreef mineralised belt at relatively shallow depths of approximately 700 to 1 200 m below surface.
The Platreef mining team has delivered the first ore from the underground mine development to a surface stockpile for metallurgical sampling. The estimated thickness of the mineralised reef (T1 & T2 mineralised zones) at Shaft 1 is 26 m, with grades of platinum-group metals ranging up to 11 g/t 3PE (platinum, palladium and rhodium) plus gold, as well as significant quantities of nickel and copper. The 26-m intersection will yield approximately 3 000 tonnes of ore, estimated to contain more than 400 ounces of platinum-group metals (PGMs).
Platreef's underground mine development team includes three new members from local communities (from left): Nkone Madubana, Learner Sinker; Katlego Nkwana, Learner Sinker; and Caroline Dzivhani, Geologist.
"This is a significant milestone for Ivanplats and a tribute to the excellent work by the Platreef project team and its South African sinking contractor, Aveng Mining," said Dr Patricia Makhesha, MD of Ivanplats. "We now can proudly show our stakeholders and investors Flatreef's remarkably high-grade and thick, flat-lying orebody that is ideal for safe, underground, bulk-scale, mechanised mining.
"Our focus is to keep advancing the Platreef project along its critical path. We remain true to our commitment to build Platreef into the world's next great platinum-group metals mine – a showcase for South Africa and the international investors that have financed the exploration and development work."
Robert Friedland, Executive Co-Chairman of Ivanhoe Mines, noted that while some investors had expressed concern about the current price of platinum, Platreef also has massive quantities of palladium, nickel and copper, as well as rhodium and gold. He said the steady surge in the price of palladium could see it become more valuable than gold for the first time in 16 years, and rhodium prices are near eight-year highs.
The platinum-to-palladium ratio at the Platreef mine is approximately 1:1. Palladium and rhodium are used as catalysts to control exhaust emissions in gasoline-fuelled vehicles, while diesel vehicles mostly use platinum. Platinum also is used as the catalyst in zero-emission, hydrogen-powered, fuel-cell electric vehicles now being developed by many of the leading, global automakers, such as Honda, Toyota, BMW, Mercedes-Benz and Hyundai.
"Building a new, large-scale mine such as Platreef is a capital- and time-intensive process that requires us to embrace the future, and the future we see will include a lot more electric vehicles using batteries and fuel cells," Friedland said.
"We are confident that platinum, copper and nickel will be among the biggest beneficiaries of the accelerating global transition to electric vehicles and clean energy.
"The Northern Limb is the future of platinum-group-metals mining. We will have the distinct advantage of having a highly-mechanised, underground mining operation with a small environmental footprint."
In July 2017, Ivanhoe issued an independent, Definitive Feasibility Study (DFS) for the Platreef project covering the first phase of production at an initial mining rate of 4 Mt/a. The DFS estimated that Platreef's initial, average annual production rate will be 476 000 ounces of platinum, palladium, rhodium and gold, plus 21 million pounds of nickel and 13 million pounds of copper.
Photos courtesy of Ivanhoe.