Endeavour Mining Corporation, listed on the TSX, reports that construction of its Ity Carbon-in-Leach (CIL) project in Côte d'Ivoire is tracking two months ahead of schedule and remains on-budget. The first gold pour is now expected to occur in early Q2-2019 rather than mid-2019 as previously planned.
"I'd like to thank the construction team for their hard work and excellent progress achieved so far," comments Sébastien de Montessus, Endeavour's President & CEO. "Completing the construction sooner is expected to result in material improvement to our 2019 free-cash flow generation potential as Ity CIL will be a low-cost operation with AISC expected to be below US$500/oz over its first five years."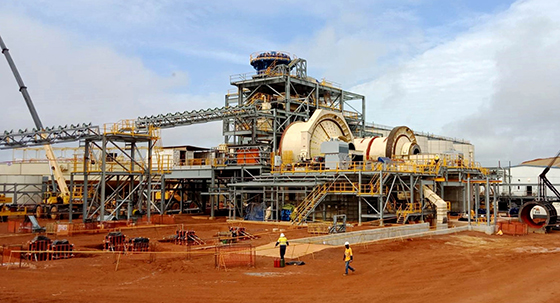 The Ity CIL plant under construction.
Jeremy Langford, COO & Executive Vice-President Projects, adds: "The experience that our in-house construction team has gained from our previous builds in the region, the early installation of the ball and SAG mills, combined with the excellent progress made during the rainy season, have been key factors which have helped advance the Ity CIL construction ahead of schedule. We are also particularly pleased with the continued strong safety track record with zero lost-time incidents to date."
Overall project completion stands at over 75 %. Nearly all of the US$412 million initial capital cost has been committed and approximately 65 % has been spent (inclusive of drawn equipment financing).
The process plant construction is over 70 % complete, tracking ahead of schedule as the ball and SAG mill installation commenced three months earlier than initially planned. Structural, mechanical, piping and electrical installation work is well underway.
The Tailings Storage Facility is well advanced.
Tailings Storage Facility (TSF) earthworks are progressing well against schedule with over 70 % completed and rubber lining has commenced. The 90 kV transmission line and 29 MW power station construction are progressing well and first power drawdown is expected in Q1-2019.
More than 2 800 personnel, including contractors, are currently employed on-site, approximately 90 % of whom are locals.
The Ity CIL project commenced construction in September 2017 and is being carried out by Endeavour's in-house team following their successful completion of the Houndé and Agbaou projects.
The Optimised study, published in September 2017, demonstrated the significant potential of Ity, which has already been in operation for more than 20 years, to become another flagship asset for Endeavour. The project is expected to produce approximately 204 000 ounces of gold annually for the first 10 years.
Endeavour operates five mines across Côte d'Ivoire (Agbaou and Ity), Burkina Faso (Houndé and Karma) and Mali (Tabakoto) which are expected to produce 670-720 koz in 2018 at an AISC of US$840-890/oz.
Photos courtesy of Endeavour Mining.