In this energy intensive era, the installation, on-site modification, operation, and maintenance of electrical power and distribution assets are critically important. As an independent, family-run business with over 60 years' collective experience, Ptytrade 228 (Pty) Ltd combine ability, expertise, and associated product knowledge to provide the best possible solutions.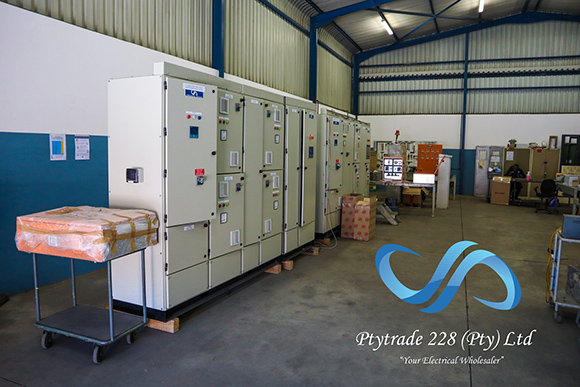 "By minimising your downtime, though supplying quality products at competitive prices, we help increase your bottom line," explains Ptytrade 228 (Pty) Ltd MD Brendon Chalmers. "The company was started in November of 2004, and our bread and butter items were the 'brown box' electrical consumable range of products, however, over time we have expanded our offering to include value added products. With Jose Carreira – ex Klockner Moeller and CBI – on board heading up the MCC division, we are looking at growing that side of the business." The company offers electrical boards from small isolator stations to 4000 amp 600 V motor control centres.
Carreira points out that a quick turnaround time is what separates Ptytrade 228 from its competitors. "The two aspects which we focus on in our factory, are the quality of the product, and the turnaround time," he says. "Being a smaller company, we are able to give personalised attention to each and every job thus ensuring a faster turnaround time."
The company's personal attention is a definite drawcard. "We offer the same level of service and attention to those who come to us with a small panel as we do with the customer who is paying millions of Rands. Both are equally important to us," notes Carreira. The state-of-the-art factory is situated in Boksburg and overseen by Carreira. All control panels are built by qualified panel wiremen to the highest standards in panel wiring and assembly. The company focuses on expert design and manufacture, along with ease of use and maintain ability. "To give you peace-of-mind, our electrical panels come with a personal and quality guarantee; and are backed by our engineers and sales departments. 24/7 availability means you do not have to endure costly delays," he says.
According to Carreira, containerised MCC solutions are growing in popularity. "Through my professional life, I have done numerous containers, and at Ptytrade 228 we are able to customise them to the customer's specifications. They are proving very popular, especially in the mining industry where the life of a mine may be 10 years. Instead of installing a bunkered substation, container substations are a great option. Once the mine is no longer in operation, the MCC, which is usable, can be relocated to the next site," he says.
A growing division
"Jose has been in the industry for many years, he is a well-known, respected gentleman in the industry" says Chalmers, "I think it is a feather in our cap to have a man of Jose's calibre in our business. Currently MCCs are a small portion of what we do, however, Jose has been brought in to grow our output."
Ptytrade 228 was built around a simple premise; giving the customer what they want when they want it. "I like to try and buy well and sell well. I enjoy trading on relationships built over 30 years – I understand my customers and they understand me" he says. Chalmers notes that post-lockdown, business has been far better than initially anticipated, yet there are still massive industry challenges. "I am confident that Jose and his team will ensure the continued growth of our company."
Despite the current challenges, with a focus on the customer, Ptytrade 228, with its dedicated staff, is set to – along with its MCC division – grow exponentially while having fun achieving it.
Enquiries: www.ptygroup.co.za