Switch Technique KZN has recently turned 21 and the company continues to grow. "We feel that we have reached a great level of maturity and respect in the electrical and allied markets," says Stevan Elion, who started Switch Technique KZN in 1999. "We offer a wide range of products and take pride in our slogan, "The Team to Rely On" and we continue to give our customers great service and technical support."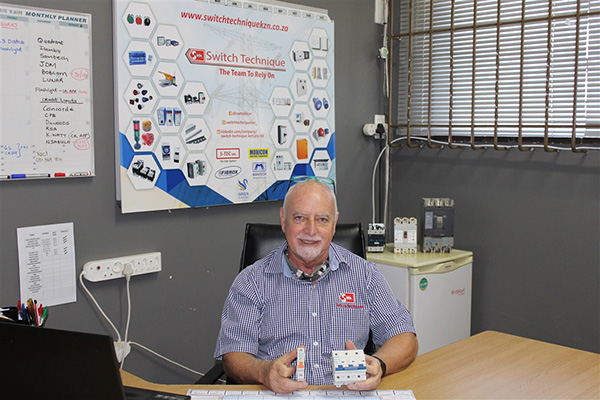 Elion has been active in electrical sales since the mid-1980s, having worked at companies such as Sprecher & Schuh, York Enclosures and ABB. Switch Technique KZN was started as a small agency business, distributing electrical products to electrical wholesalers, panel builders and OEM companies.
Due to demand, the company began manufacturing fibreglass electrical enclosures and, in 2018, was successful in its SABS application and was awarded a permit for SANS141:2006 which is required in order for municipalities and Eskom to accept the fibreglass enclosures. In February 2020, majority shares of Switch Technique KZN were obtained by Swan Electric which is a subsidiary of Mobicon, a Hong Kong listed company. Elion will continue to run the Switch Technique operation and assist in growing the Swan brand in South Africa. Other South African subsidiary companies include Mantech Electronics and Illumine Electrical.
The Swan, Mantech and Switch alliance gives the company access to over 130 000 products to offer to customers, with this number continually growing. The Swan brand has been supplying electrical products for over 22 years and includes ranges such as circuit breakers, earth leakages, contactors/overloads, pushbuttons/pilot lights, relays, micro/limit switches, enclosures, distribution boards, manual and automatic (ats) switches, industrial and domestic switches and sockets as well as hundreds of other products. 2021 is going to be a busy year with the launch of a new range of MCBs, MCCBs, ACBs and a dc rated range of products for PV industries.
The company is currently hard at work with IEC test reports and with the NRCS in obtaining its RCC and LOA certificates. Switch Technique KZN will be showcasing its products at the 2021 KwaZulu-Natal Industrial Trade Show (KITE) and at other marketing events as allowed within COVID parameters.
Visit the website for product and marketing news. Enquiries: www.switchtechniquekzn.co.za, www.mantech.co.za, www.swan-electrical.co.za.