KNX installations have traditionally run on the classic green 2Pair cable. The support for this physical medium ensured that it has remained dominant for over 25 years. Most integrators base their installation on a physical cable to connect devices on the bus. However if we look at trends globally for data transmission the move is towards wireless communication. The devices we use daily are becoming less and less dependent upon a hard wired connection and more and more dependent on wireless connections. Smartphones, laptops, cameras, TVs, speakers – everything is designed for hassle-free installation. Fewer cables mean fewer problems – in theory, at least. So it begs the question why the majority of KNX installations still use physical cables to connect everything?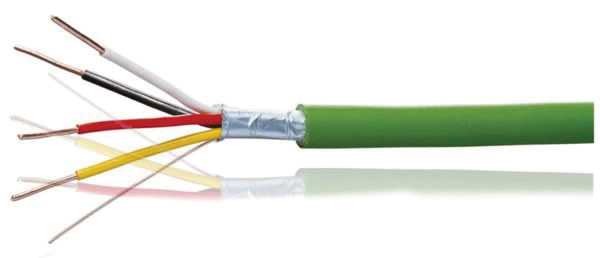 Change is coming
With the advent of more and more wireless devices and the IoT market almost exclusively relying on wireless communications KNX manufacturers have started to produce more and more KNX RF devices. The main reason behind the lack of projects using KNX RF is the lack of products on the market and the regulatory requirements for RF devices. The demand for devices which can be used in locations where cabling is not possible or where a retrofit solution is required is growing. Building owners who may have not put in smart infrastructure are now looking at retrofitting this technology. KNX RF offers the electrician or the integrator the opportunity to offer these solutions to their clients without the complication of having to install additional wiring.
Great opportunities
There is a large opportunity for people offering solutions to clients wanting better lighting control or looking for a solution to remotely operate an irrigation pump via a battery powered wall switch for example. Not to mention the option of adding power metering into a smart system to manage power demand to fit into the capacity of the backup power system when load shedding occurs.
The Linky power meter being rolled out in France has KNX RF built into it. Project managers wanting to use smart power control now have this option via the KNX RF protocol without any further infrastructure being required. Smart tariffs will be part of an integrated power plan for South Africa and the need for using smart building technology will become mandatory to take advantage of the multilayered services offered on the new smart grid. Finally, there is the need, more than ever, of convergence between mass-market products/technology and smart homes and buildings.
Why choose KNX RF?
Now that we have clarified why this is the right moment to think of wireless communication in smart homes and buildings, what makes KNX RF the right choice? This slick, wireless technology is designed to perform at its best in homes and building environments thanks to the 868MHz frequency band.
This frequency allows perfect wave propagation in interiors, thus reducing the need for repeaters, although repeaters can be installed, which incorporate algorithms to avoid unnecessary repetitions. From the installation point of view, it makes life much easier, thanks to the seamless experience of using the KNX programming software, ETS. This is a key point, since with the same tool, you can configure a whole installation that includes twisted pair (TP), radio frequency (RF), power line (PL) and Internet protocol (IP) devices.
KNX RF devices can be configured either directly using a USB-RF dongle, or via TP/RF media couplers. From the manufacturing point of view, companies can focus on developing products and working with a growing portfolio of certified system components, for a market that can already rely on the system integration expertise and tools necessary to work with those products – a fact very much appreciated by R&D departments.
From the available radio channels point of view, there are two different types of KNX RF, namely Ready and Multi. While KNX RF Ready uses one single channel, KNX RF Multi can work using five different channels, thus enhancing protection against interference. Out of these five channels, three are fast channels and two are slow channels – a perfect combination to increase transmission efficiency depending on the device requirements. For example, temperature sensors only require slow channels to send ambient temperature readings.
Regarding the battery-powered or battery-less devices discussion, KNX RF can support both. The KNX RF protocol is suitable for devices such as push buttons or temperature sensors that harvest energy from sources such as solar cells, movement and vibration. Lastly, KNX RF can also be combined with KNX Secure. This technology provides data protection by encrypting KNX IP telegrams and data, and protecting user data against unauthorised access.
Conclusion
2018 has seen a breakthrough for KNX RF technology: KNX manufacturers have increased their portfolio, making it possible to design a whole installation using exclusively KNX RF products including shutter controllers, switching and dimmer actuators, push buttons, capacitive sensors, motion sensors, window contact sensors, sockets, binary inputs, remote controllers, energy-harvesting push buttons, and KNX Secure push buttons. This trend is growing and all the data on technology maturity, large-scale factors and project indicators herald a brilliant future for KNX RF in smart homes and buildings.
There are great opportunities out there if we all continue working in this direction. It is, undoubtedly, time to rely on KNX RF waves as much as on the KNX green bus!
Matthew Carter is the owner of KNX Electronic Components a KNX Systems consultant and wholesaler. In addition to this, as president of the local KNX National group he spends a lot of time promoting KNX amongst those involved in the energy efficiency space and the electrical trade.
Enquiries: www.knxsa.com