The Argo LED luminaire from Regent Lighting Solutions (RLS) is made from high quality materials that are corrosion resistant in extreme conditions, and housed in a light weight body that has been tested for strength, rigidity and toughness.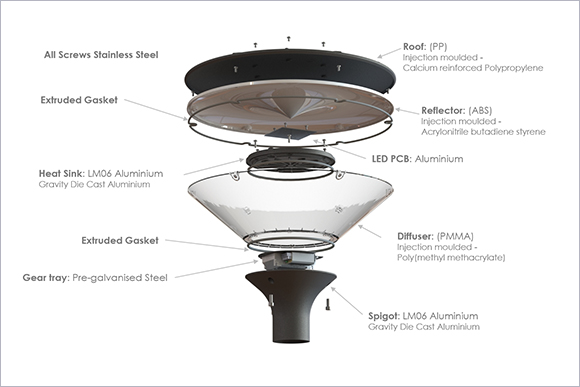 The locally designed and manufactured Argo offers:
• Excellent UV and heat stability
• Balanced mechanical and physical properties
• Crystal clear diffuser transparency
• High impact resistance
• Reduced glare from indirect light source
• Highest quality alloy Lm06 die cast aluminium
• Excellent thermal properties
• UV stabilised powder coating finishing
• Ease of maintenance and access to ECG
• IP66 rating
• Recommended mounting height of 3.5 m to 6 m
The fitting is designed to operate a range of LEDs up to 54 W. The LED is an Osram high powered LED mounted onto an aluminium circuit board, 19 or 27 LED option, NTC point.
Ease of maintenance is ensured as access to the ECG – the cause of most LED fitting failures
– requires the removal of only three screws. The luminaire is specifically designed for all lighting applications in streets, squares, parking areas and landscapes. Light distribution is symmetrical or asymmetrical, and is used to provide a predominantly functional purpose in guiding or leading people and vehicles.
Additional optional features of the Argo include thermal monitoring of the LED PC board, dimming, a daylight switch and special colours on request.
Enquiries: https://regentlight.co.za/argo-post-top/